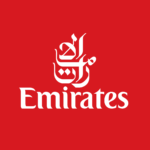 My sister-in-law works as a flight crew for the first class cabin in Emirates airlines. And since then, I always dream of flying with the airline not only to support her company but to experience the services of Emirates as well. So during the Golden Week holiday in Japan, we took Emirates airlines for our flight from Haneda to Paris as well as our return flight from Rome to Haneda with stop-over both in Dubai.
The airport staffs in Haneda were all courteous during our check-in, we were even allowed to queue on the priority lane since we were traveling with a toddler. But all courteousness ends here… When we boarded the plane, the flight crew checked our boarding passes and asked us to go to the first entrance which apparently is the wrong aisle as it was for the columns A, B, C seats while we were seated in columns H, J, K. The inflight staffs were also not courteous at all, they gave out hot towels at the beginning of the flight but the flight crew collecting them don't look to happy with what she was doing, she even seemed grossed-out collecting used towels. Also when my two year old son accidentally pressed the 'call attendant' button from the TV control, we smilingly apologized to the flight crew but she seemed annoyed and just gave us a blank face.
I was thinking that it may be just a one-time bad experience, maybe the flight crew for our Haneda to Dubai flight were just tired or woke up at the wrong side of the bed so I was hoping to have a better experience on the connecting flight from Dubai to Paris. But apparently it was still the same. The flight crew were not courteous at all. They don't smile when they give out meals or drinks and often doesn't get back when you requested something, thus you'll have to call a second time. They were also rude when they were with a food cart and a passenger (coming from the washroom) needs to pass through them to go back to his seat.
The same is true with our return flight from Rome to Haneda. The Rome airport staffs were very accommodating and so we were hoping to have a better flying experience with the airline but to no avail. The flight crew were still not courteous and my husband was even seated on a different row from us (my son & I) on our Dubai to Haneda flight. I actually chose three seats on the same row, 25A, 25B, and 25C, prior to our flight and we were surprised when we found-out that the seat 25C was assigned to another passenger while  my husband was moved to 24B. We requested the flight crew to move us in a different seat with the 3 of us seating together or find a passenger willing to swap an aisle seat with the lady occupying 25C but they said that nobody is willing, though we didn't see any of them asking any passenger other than the guy seated in front of us. It was a very uncomfortable 9 hours of flight for us as my son keeps on moving back from his seat to his dad.
Over-all it was not a good experience flying with Emirates airlines. We have tried other airlines like KLM, Singapore Airlines, Philippine Airlines, Japan Airlines, ANA and even budget airlines like Jetstar, Scoot, Tiger Airways, Air Asia, and Cebu Pacific, but Emirates have the poorest customer inflight service so far. Even the budget airlines have better customer service than them.
Oh, and I must add that my parents-in-law were supposed to join us on the trip but they have to cancel due to health reasons and thus we have to cancel their flights. After the flight cancellation, my husband received an email from Emirates saying that he will be refunded the amount of 80 USD for the cancelled flight. We were so shocked to find out that only $80 will be refunded for the fare $1,215! The Central Refunds section of the airline said that the return flight was non-refundable and after they lessen the cancellation fees for the flights, there was only $80 left to refund. That was such a horrible news as there was no where during the online booking that says that the fare was not refundable. So just like that we wasted more than $2,000 (for 2 unrefunded tickets)! So be careful when booking and flying with Emirates.