The spring season in Japan means it is the time for flower viewing. Here are some of the flower festivals held in the country.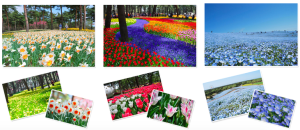 Hitachi Seaside Park Flowering 2017
March 25 to May 14, 2017
The 190 hectares park features variety of plants and flowers all year round making it a good destination not only during spring but the rest of the seasons.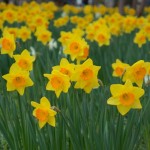 Suisen Fantasy (late March to mid April)
About 1 million narcissus flowers of over 600 varieties bloom over a hectare of land creating a colorful, enchanted, and sweet-smelling setting under the pinewoods.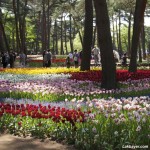 Tulip World (mid to late April)
As soon as the narcissus flowers fade, around 280,000 tulips of about 220 varieties will color the "Tamago no Mori" or "Forest Flower Garden of eggs". The colorful tulip flowers will surely appeal and warm the visitors hearts.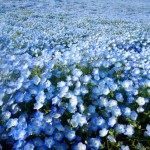 Nemophila Harmony (late April to mid May)
The blossoming of the nemophilias is the climax of the Spring Flower Sequence, when about 4.5 million blue nemophilas bloom over the 3.5 hectare "Miharashi No Oka" hill creating a stunning light blue carpet under the the blue sky.
Address: 605-4 Onuma-aza, Mawatari, Hitachinaka-city, Ibaraki 〒312-0012
Contact: Hitachi Seaside Park Office | ☎029-265-9001
Website: en.hitachikaihin.jp
Park hours: 9:30 to 17:00
Admission: Adult ¥410 | Seniors ¥210 | Child ¥80
---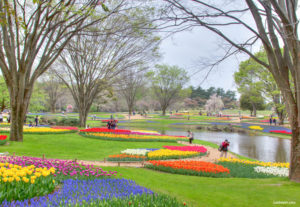 Showakinen Park Flower Festival 2017
March 25 to May 28, 2017
The 163 hectares park located in Tachikawa provides visitors with a wide variety of flowers and trees from season to season. It is specially famous for its flower festival when the flowers create a colorful carpet like landscape.
Address: 3173 Midori-cho Tachikawa City, Tokyo 〒190-0014
Contact: Showa Administration Center | ☎042-528-175
Website: www.showakinen-koen.jp
Park hours: Jan – Oct: 9:30 to 17:00 | Nov – Dec: 9:30 to 16:30
Admission: Adult ¥410 | Seniors ¥210 | Child ¥80
---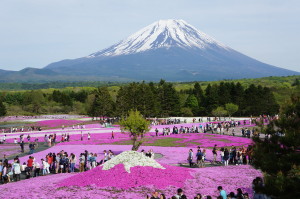 Fuji Shibazakura Festival
April 15 to May 28, 2017
The Fuji Shibazakura Festival (富士芝桜まつり, Fuji Shibazakura Matsuri) is one of the most popular event in Japan. About 800,000 moss phlox blooms in a vast field, about three kilometers south of Lake Motosuko in the Fuji Five Lakes area, creating a stunning view with Mt. Fuji on the backdrop.
Address: 212 Motusu, Fujikawaguchiko, Minamitsuru Yamanashi
Contact: Fuji Shibazakura Fastival Office | ☎0555-89-3031
Website: www.shibazakura.jp
Park hours: 8:00 to 17:00
Admission: Adult ¥520 | Child ¥210
---
Hitsujiyama Park – Shiba Sakura Festival 2017
April 14 to May 07, 2017
About 40 million pink, white, and purple phlox are creatively spread on the 1.76 hectares slope of Hitsujiyama hills located at the foot of Mt. Bukō.
Address: 6267 Omiya, Chichibu City, Saitama
Contact: Chichibu tourism Association | ☎042-524-1516
Website: www.chichibuji.gr.jp
Park hours: 8:00 to 17:00
Admission: Adult ¥300 | Seniors ¥250 | Child ¥250
---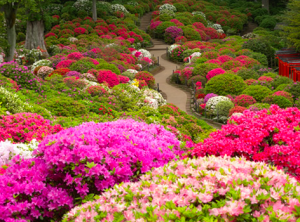 Bunkyo Azalea Festival (Tsutsuji Matsuri) 2017
April 8 to May 05, 2017
The Nezu Shrine is one of Japan's oldest shrine. It is set in lush greenery with ponds and pathways. The shrine is also known for its 300-year-old beautiful azalea garden, which features approximately 3,000 azalea plants of 100 species.
Address: Nezu Jinja Shrine, 1-28-9 Nezu, Bunkyo-ku, Tokyo 〒113-0031
Contact: Nezu Shrine | ☎03-3822-0753
Website: www.nedujinja.or.jp
Park hours: 9:00 to 17:00
Admission: Adult ¥200
---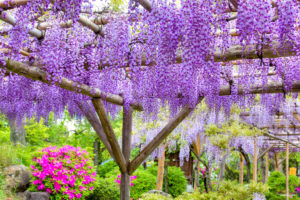 Kameido Tenjin Shrine Wisteria Festival 2017
April 15 May 07, 2017
The shrine is not only a place to pray but also a great place to view wisteria In Tokyo. Lovely purple wisteria flowers dangled from trellises, which mostly hang around the pond.
Address: 3-6-1 Kameido, Koto-ku, Tokyo 〒136-0071
Contact: Kameido Tenjin Shrine | ☎03-3681-0010
Website: http://kameidotenjin.or.jp
Shrine hours: 24 hrs
Admission: Free