Niijima is reputable for being a camping island but lodge/hotels are also available for visitors who are just in the island for relaxation.
Campsite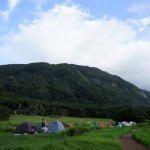 Located in the eastern side of the island, Nijiima's 250m (approximately) long campsite is lounging perfectly at the base of a mountain surrounded by thick, healthy, and green trees. The campground is well maintained, has cold showers, washroom, cooking hutch with power source, barbecue grills, and stone tables and chairs.
Use of the ground is free, but registration needs to be done in the registration office which is very close to the Koga stone zoo. Space reservation however is not possible thus, camping area is on a first-come-first-serve basis. The campground lies adjacent to the Habushiura Beach which is 3-5 minutes away by foot.
Hotels/Inns
Niijima has one hotel, a few ryokan (Japanese inns) and several minshuku (smaller version of ryokan usually run by a family) where visitors can comfortably stay.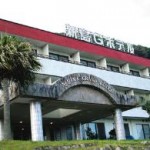 Niijima Grand Hotel is the the only hotel in the island and is 2 minutes from the airport or 5-minute drive from the port by car. It is 10 minutes walk from Habushiura beach. Phone reservation can be made 04992-5-1661.
Other inquiries and reservation can be made via Tourist Information Center at telephone number 04992-5-0048.