2016/2017 Season: December 17, 2016 to April 02, 2017
Madarao Mountain Resort is a unique bowl-shaped ski area located in the northern part of Nagano Prefecture, between Nozawa Onsen and Myoko Kogen. It is a perfect powder skiing destination as it receives about 10 to 13 meters average snowfall per season.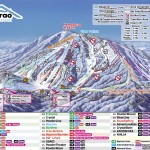 The resort has 29 courses, suitable from beginner to advanced riders, which are supported by 15 lifts. Beginners can enjoy a 2.5 kilometers of easy and well-groomed trail, which is also the longest course in the resort. Advanced riders on the other hand can test their skills on moguled terrains, steep slopes, or explore the ungroomed courses, as off-piste skiing is permitted in the resort.
The resort is interconnected to Tangram Ski Circus, a resort with 14 courses and 6 lifts, at the top of the mountain. A joint lift ticket is also available to allow visitors to ski at both resorts.
Lift Ticket Rates:
Regular Season

Adult

Students




& Seniors

Kids

Single Lift

¥400

¥400

¥300

4 Hour Pass

(4 hours from time of purchase)

¥3,900

¥3,200

not set

1 Day Pass

(8:30 AM – 5:00 PM)

¥4,500

¥4,000

¥1,500

2 Day Pass

¥8,100

¥7,100

¥2,500

3 Day Pass

¥11,900

¥10,100

¥3,500

Nighter Pass

(5:00 PM – 9:00 PM)

¥1,800

¥1,600

not set

Afternoon + Nighter Pass

¥4,800

¥4,000

not set
– Tangram Lifts are not included on this pass.
– Preschooler ski free of charge.
– Kids include children under 12 years of age.
– Senior rates apply to those 55 years of age and over. Student rates apply to those age 13-18.(I.D. required)
– Disability discount, will be equal to the Senior Rates.
– Other type of tickets such as Afternoon with Nighter Pass and Year-End Nighter Pass are also available.
A wide range of ski and snowboard items for children and adults are available at the Birch rental / Swallow rental shop located in the ski resort's entrance plaza.
1-Day Gear & Wear Rental Rates:
Item

Adult

Child

Standard Ski Gear Set




(skis, poles and boots)

¥3,700

¥2,500

Ski

¥2,700

¥1,900

Ski Boots

¥1,300

¥900

Poles

¥500

¥500

Snowboard Gear Set




(Snowboard and boots)

¥4,400

¥3,200

Snowboard

¥2,800

¥1,900

Snowboard Boots

¥2,500

¥1,800

Snow Wear Set

¥3,800

¥2,500

Helmet

¥1000

¥1000
– 4 Hours, 2 Days, 3 Days, or more days rental is also possible.

Ski and snowboarding lessons both in Japanese and English are also available in the resort. There is a snow park located next to Restaurant Tirol where kids and even adults can enjoy tubing and sledding. Entrance to the park is free and sleds and tubes can also be rented at the snow park office.
Child care services are also available in 'Tsumiki no Heya' located inside the Madarao Kogen Hotel. Children at least one year old can be left under the care of professionals. Business hours are from 9:00 to 12:00 and 1:30PM to 4:30PM. Half day child care costs ¥3,000 while full day costs ¥5,000. Reservations can be made through 0269-64-3214.
The main accommodation in the area is the Madarao Kogen Hotel, which offers both western and Japanese styled-rooms as well as indoor and outdoor hot spring facilities. Other accommodation options include other hotels, pension houses, and apartments in the Madarao village.
Access:
Madarao Mountain Resort is located about 2-hours away from central Tokyo. Commuting visitors from Tokyo Station can take the Hokuriku Bullet Train (Hakutaka Shinkansen) to Iiyama Station. The ride takes about 100 minutes and costs ¥8,630 for 1-way fare.
A direct bus connects Iiyama Station to the resort and costs ¥500 – ¥700 for adults and half the price for children.
For more information: http://www.madarao.jp