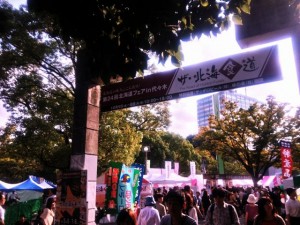 Hokkaido known as "The Kingdom of Food" is having it's 24th food fair in Yoyogi Park from October 5-8, 2012. We were lucky to find time to visit the event today. The park is filled with booths featuring the island's specialties and delicacies – crabs, lamb, sushi, seafood, sweets, dessert, and sake. The park is definitely packed with a lot of people and each booth possesses very long queues. Choosing what to eat and where to buy food became quite a difficult decision because everything seemed delicious.
Eventually we decided to buy donburi with crabs, sea urchin (uni), salmon sashimi, hotate, and salmon fish eggs (ikura). We also bought lamb, cooked in a different styles – lamb chop, lamb barbecue, lamb sausage, and lamb donburi. The seafood donburi is just normal tasting, nothing special.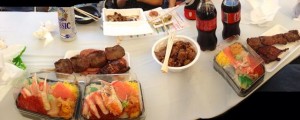 I was a bit disappointed because I was expecting it to be very good since Hokkaido is known to be an excellent place for fish and shellfish. The lamb however is very good especially the lamb chop and lamb barbecue. The meat is so tender and it tastes just exactly right – there's no strong flavor that lambs usually have.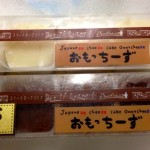 We also bought omotcheese – they call it the Japanese cheese cake. It is cheese and mochi combined to make a perfect dessert. the dessert also comes in 3 flavors: Original cheese, chocolate, and strawberry. And the omotcheese did not disappoint me, it actually exceeded my expectation! The cheese mochi was soft, chewy, and creamy. I really can't get enough of it. The rock melon with softcream is also one of the popular dessert in the event. The queue however is surprisingly fast and thus waiting time takes only around 20-30 minutes. The rock melon dessert is a bit expensive for ¥1,500 per serving.
There are two more days left for the event. You can still try it out and I'm sure that despite the crowd, you will surely love it!
Event: Hokkaido Fair
Dates: October 5 – 8, 2012
Time: 10am – 6pm
Venue: Yoyogi Park, Shibuya-ku, Toyko, Japan
Website: http://www.hokkai-syokudo.co.jp/yoyogi.php
*nearest station: Harajuku