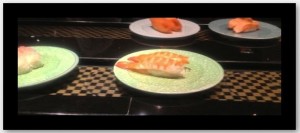 Cuisine:
Sushi
Tried:
Sushi and Lunch Donburi
Experience:
Pintokona is a Japanese kaiten sushi – a restaurant where the plates with the sushi are placed in a revolving conveyor belt where customers can simply pick their selections from the stream of fresh sushi moving around the restaurant counter. If you can't find what you like from the conveyor belt, orders can also be placed through the waiters/waitress or directly through the chefs if you are seated near the counter. The sushi plates come in different colors which determines the prices and thus the final bill is calculated by the number and type of plates of the consumed sushi.
Some people maybe hesitant to try the conveyor-belt concept of restaurant as they are concerned about the freshness of the sushi but there is a quote from Bento.com about Pintokona that this sushi shop is equipped with a high-tech element where an electronic chip is placed in each plate to keep track of its freshness and the sushi is taken out of rotation after thirty minutes.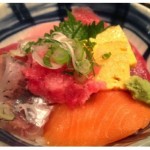 Other than sushi, fresh fish donburi set menu is also available during lunch time. For less than ¥1,000, the set comes with an adequate serving of donburi and miso soup. Unlimited serving of green tea is also available which you have to make by yourself as each table as well as counter seats have a box of green tea powder and a hot water spigot.
Both the sushi and donburi set are of good quality and the price is also reasonable considering that the restaurant is located at the basement of Roppongi hills and is directly attached to the Metrostation. The staffs are also accommodating and speaks English. The chef is also very earnest for special requests especially for those who are keen for exotic dishes.
With the elegant and convenient place, staff hospitality, and good food, this place is really worth a visit.
Address: B2F Roppongi Hills Metrohat, 6-4-1 Roppongi, Minato-ku, Tokyo
Tel: 03-5771-1133
Operating Hours:
Monday ~ Sunday: 11:00am – 11:00pm
Seats: 52 seats