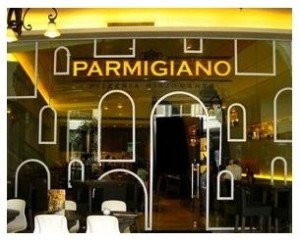 Cuisine:
Italian Kitchen
Tried:
Caprese
Gambero Aglio e Olio d' Oliva
Quattro Formaggi
Carbonara
Experience:
Resorts World Manila (RWM) is the first integrated tourist hub in the Philippines which is strategically located in Newport City, just across Terminal 3 of the Ninoy Aquino International Airport and adjacent to the Villamor Golf Course. Resorts World Manila is branded as Asia's newest playground and home to 3 hotels, gaming facilities, entertainment spots, a luxury mall and of course different restaurants. It provides a variety of food choices, giving you the best of both local and international cuisines. You can choose from authentic Cantonese, to Japanese-Korean fusion, to mouth-watering steak, or your favorite Filipino dishes. With these many options to choose from, we just can't decide where to eat. After a several minutes of contemplating, my sister decided that she wanted to eat pasta and thus we ended in Parmigiano Pizzeria Ristorante.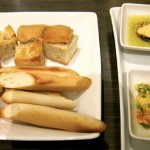 As we waited for our order, we were served with a complimentary focacia bread with olive oil & garlic vinaigrette, and tomato salsa. The bread is warm and crunchy outside but soft inside. The vinaigrette mixture and the tomato salsa complemented the bread well. Just right after we finished the bread, the Caprese arrived. The tomatoes where sweet and crunchy – just the way I like it!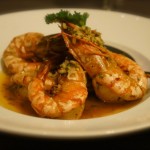 The Gambero Aglio e Olio d' Oliva is served next. It consists of 4 pieces of big prawns cooked in olive oil with garlic and herbs. The dish is a bit salty but combined with other dishes such as the bread or caprese, will taste alright.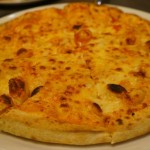 Quattro Formaggi (or four cheese pizza) have four different kinds of cheese: Parmesan, Mozzarella, Gorgonzola and Pecorino. We love ordering this pizza everytime we see this in the menu as I love cheese! And fortunately, Parmigiano's Quattro Formaggi didn't let us down. It taste just the way it should be – a bit salty, cheesy with soft crust. It is comparable to Tokyo's Pizzeria Baggio's pizza less the honey. Yes, Pizzeria Baggio serve Quattro Formaggi with honey as the opposing taste of sweet honey and salty cheese just simply complement each other. But nonetheless, we enjoyed Parmigiano's four cheese pizza.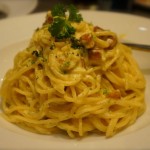 The carbonara was served the last. The pasta may look dry unlike most carbonara that have creamy sauce. But surprisingly, the carbonara is also very good. The pasta sauce is just right and creamy without having to spoon the sauce.
Over-all, we enjoyed our dining experience with Parmigiano. With just around ₱1,600 for three people, we had good and not so expensive food, good ambiance, and good service.
Address: 2nd Level, Resorts World Manila, Newport Boulevard, Newport City, Cybertourism Zone, Pasay, Metro Manila, Philippines
Tel: (+632) 659-8295
Dinning Hours:
Mon ~ Thurs & Sun:  11:00 – 23:00
Fri & Sat: 11:00 – 24:00
* menu photos from clickthecity.com