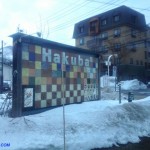 Hakuba, located in the Northern Japan Alps of Nagano Prefecture stands out as one of Japan's finest winter resort areas. It is one of the most popular ski areas because of its thick snow, good terrain, vertical rise, and advance ski and snowboard slopes.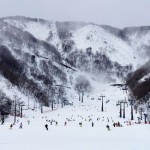 Hakuba hosted several Olympic events during the 1998 Nagano Winter Olympics and some of the Olympic facilities still remain in the area like the Hakuba Ski Jumping Stadium, Hakuba Olympic Memorial Hall, and Olympic museum which is a walking distance from the ski jump.
Winter Sports
Hakuba boasts some of the highest snowfall levels in Japan with an annual base of snow exceeding 10 meters thus makes it a constant top choice choice area for skiers and snowboarders. It is not only a good choice for pros but as well as beginners. Ski and Snowboard lessons are also available for beginners who are looking into getting into the sports. Lessons are conducted both in Japanese and English. Gear rentals is also available in the resorts around the Hakuba valley.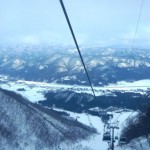 Several resorts in Hakuba teamed-up to offer a package which gives discounts on multiple day chair lift & gondola tickets and can be used in all participating resorts. The top of the lifts and gondola also offers gorgeous scenery.
In addition to skiing and snowboarding, winter enthusiasts can also enjoy other activities such as snowshoe tours where hikers can explore the endless mountain ridges trails, forests, and shrines. Snow mobiling,  heliskiing or donwhill skiing, and snow rafting can also be enjoyed in Hakuba due to its exceptional powder snow and dry climate.
Some resorts also provides a play area where kids can dig the snow and make a snowman, make igloo shaped structures, and even sled in the snow.
Onsen or Hotsprings are also available around town or hotels.
Accessibility
By Train
East Japan Railway Company (JR East) operates the Asama service on the Nagano Shinkansen line which travels from Tokyo Station to Nagano Station. The trip is approximately 100 minutes and costs around ¥8,000. An express bus to Hakuba is available from Nagano Station and takes around 60-90 minutes and costs around ¥1,500. The express bus stops directly at the base of several ski resorts.
JR Azusa  limited express train is also available for people traveling to Hakuba. The service starts from Shinjuku station and stops at Matsumoto station. Then a transfer to a local train on the JR Oito Line to Hakuba is needed. The trip takes around 4 – 4.5 hours and costs around ¥8,000.
By Bus
There is a direct highway bus from Shinjuku Bus Station to Hakuba and stops in the village center, at the base of Goryu resort and Happone resort. The journey takes about 4.5 hours and costs ¥4,070. The buses are air-conditioned, with restroom, and has 3 stop overs. Tickets can be purchased online via www.highwaybus.com or at the bus station.
Getting Around
There are free shuttle buses that delivers travelers to the three ski areas of Happo, Iwatake, & Tsugaike. During winter, there are also a Genki-Go bus service which is available for ¥200 and operates from 5pm tp 11pm. These buses travels around the accommodation areas to the main ski & restaurant areas as well as the supermarkets.
…
Video Clip

…
Picture Gallery
External Links:
Hakuba Tourism: http://www.hakubatourism.jp
Hakuba Nagano: http://vill.hakuba.nagano.jp
Hakuba Connect: http://www.hakubaconnect.com