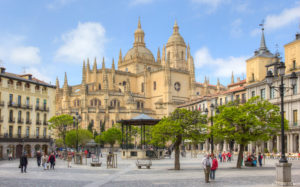 Segovia, located in the Castilla and León region in the northwest of Madrid is one of Spain's most famous historic cities. The old town Segovia along with its Roman aqueduct were declared a UNESCO World Heritage Site in 1985.
Segovia had been a trading center and became the court residence of the Trastamaras during the Roman Empire. It was during this period when numerous Romanesque buildings were built.
---
Map – Walking Tour
---
This Roman aqueduct serves as the main entrance to the historic quarter of Segovia. The water collected from the mountains runs through the 15 kilometers aqueduct to the town. It is considered as an "extraordinary engineering accomplishments" in Spain because of its long span, architectural beauty, uncharacteristic slenderness, and dramatic presence in the center of a dense urban fabric.
This house located in Calle Juan Bravo, 33 has a very unique facade of pyramid-shaped reliefs, which is made from granite blocks. It is a home to Segovia Art School and it also has an exhibition hall.
Segovia's Plaza Mayor
It is the main city square of Segovia which was built in the 17th century. The square has many sidewalk cafes and is surrounded by several medieval streets which are worth exploring.
Catedral de Segovia
The Segovia Cathedral, located in Plaza Mayor, is a Gothic style cathedral built in the mid-sixteenth century. The church has about 20 chapels, which are closed by grilles and decorated by fine sculptures, art works, and altars.
Alcázar of Segovia
This more than 1,000 year old castle sits on a rocky crag between two of the city's rivers Guadarrama mountains. The castle was originally built as a fortress but has served as a royal palace, a state prison, a Royal Artillery College and a military academy since then.