Summer in Japan is hot and humid and most people find it stuffy and suffocating. With this kind of weather, most people take this time to travel to places with higher elevations or to go to the islands and mountains. This year we took the opportunity to visit Niijima again and we included a side trip to the neighboring Shikinejima as well.
Niijima
Niijima is the fourth largest of the Izu Seven islands administered by the Tokyo Metropolitan Government. It is an archipelago in the Philippine Sea which is about 163km south of Tokyo. The island is a popular place for surfers but it is also a perfect place for a relaxing holiday. Other outdoor activities include camping, trekking, fishing, bird watching, swimming, cycling, sightseeing and hot spring bathing.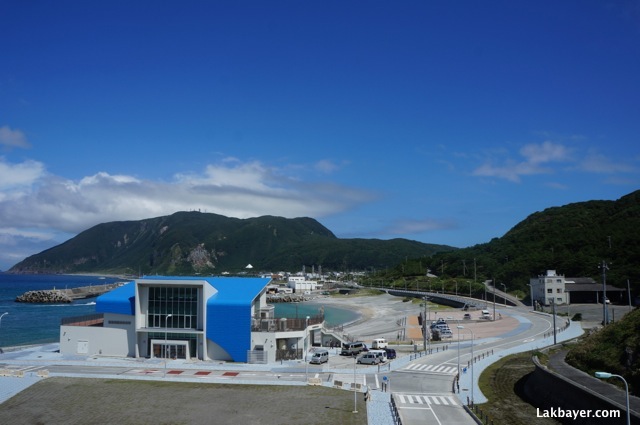 It can be reached through a 9-hour overnight passenger ship operated by Tōkai Kisen. The ship leaves Takeshiba Shinbashi port at 10:00 pm (11:00 pm during Summer season) and arrives in Niijma at 7:30 am the next day. Tōkai Kisen also operates a high speed jet ferry (twice daily during July and August) which will take only 2 hours and 20 minutes to reach the island. Plane transport operated by New Central Air is also available from Chōfu Airport, located in western Tokyo. As long as the weather permits, flights are available four times daily and takes about 45 minutes to reach Niijima.
Visitors to the island can choose to stay in hotels or inns (check-out an overview of Niijima accomodation) or adventure lovers may opt to set-up a camp in the campsite which lounge perfectly at the base of a mountain. Equipped with a field kitchen, showers, and washrooms, the campsite is located in the eastern side of the island, near the Habushiura Beach. Use of the ground is free, but registration needs to be done in the registration office which is very close to the Koga stone zoo.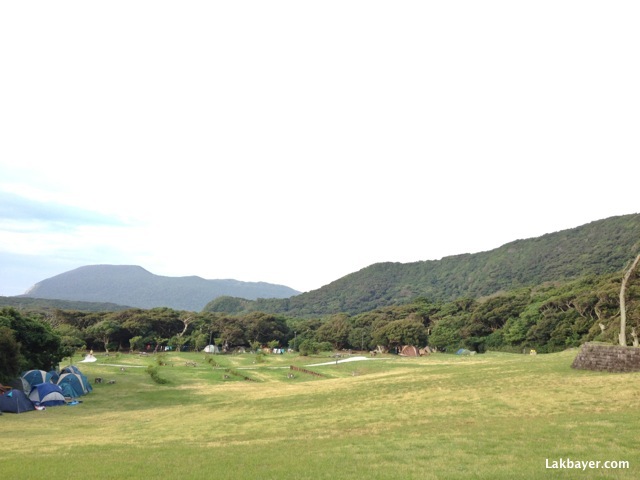 It is best to use a bicycle when getting around Niijima which can be rented for ¥1,000 a day if you didn't bring one. Cycling around the island can be refreshing with the forested mountains, white sandy beaches, isolated temples & shrines, glass art musem, hot springs, and moyai sculptures providing attractive destinations. Other means of transportation like taxi and car or van rental is also available.
A beautiful sunset can be viewed in the west side of the island with Yunohama Onsen as one of the best places to be. Visitors can enjoy the sunset while soaking on an ancient Greek ruined styled open-air onsen with the sound of the waves lapping on the cliffs below. Entrance to the hot spring is free and bathers are required to wear swimsuits. Lockers are also available in the shower room for ¥100.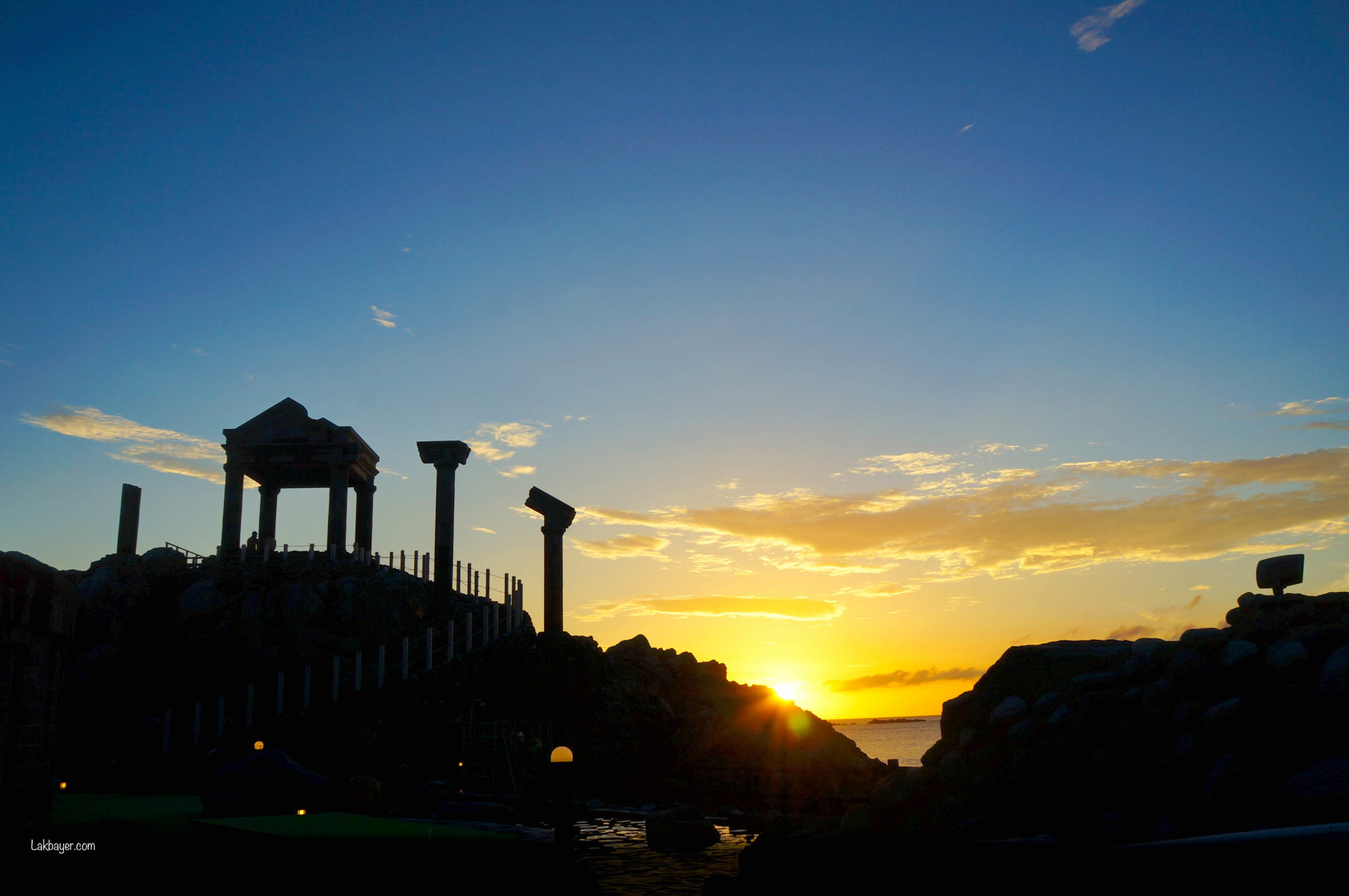 Several eating places are also available in the island, tourists can choose from Sushi & Donburi, Yakitori, Yakiniku or Ramen shops. Covenience store and groceries are also available for those who plan to have their own barbecue party.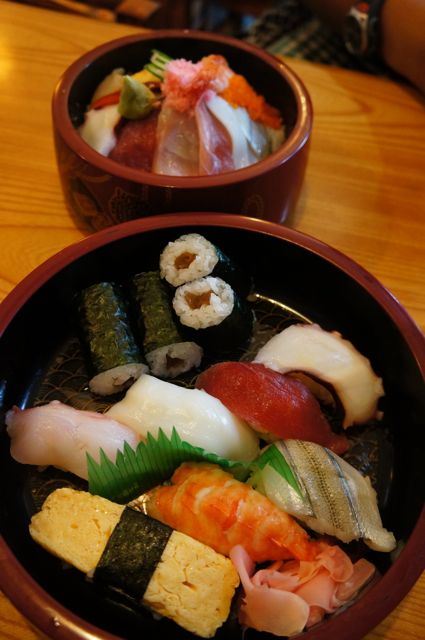 Further island information can be directed to the Niijima village office at 04992-5-0240.

Shikinejima
Shikinejima is also one of the Izu Seven Island and fairly small with a perimeter of around 12 kilometers which has a dimension of approximately 3 km in length and 2.5 km in width. It is known for its white sand beaches, snorkeling, bird watching, trekking and hot spring bathing.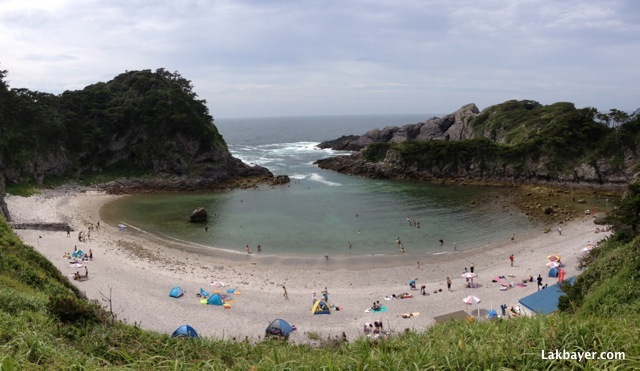 It can be reached from central Tokyo also through the large passenger ship or high speed jet ferry operated by Tōkai Kisen. It is the ships'/ferry's next stop after Niijima. A 10 minute high speed ferry service between Niijima and Shikinejima is also available trice daily (4 times during summer months) and costs ¥420 for a one-way fare or ¥820 for a round trip fare. There are no plane transportation available in Shikinejima.
Since the island is quite small, it is easily accessible either by walking or bicycle. Visitors can choose to relax in the attractive hot springs, which are free open-air mixed bathing onsen – waters in the onsen are refilled by the sea at high tide and an increase in temperature should be expected during low tides, sight see in Kanbiki Mountain Lookout which offers a great view of Niijima, Kozushima, and Miyakejima islands and on clear days, even the Izu Peninsula and Mt. Fuji, or enjoy swimming and snorkeling in Nakanoura, Oura, Tomari, or Ishijirogawa beaches. When visiting the beaches, do note though that some rocks may be filled with crawling sea insects.
Tourists planning to stay overnight can opt to stay in ryokans (check-out an overview of Shikinejima accomodation) or set-up a tent in the free campsite. There are limited eating places in the island but convenience stores are available in the town proper.
Further information can be directed to the Shikinejima Tourism Association via phone call at 04992-7-0170.


Experience
The three day trip to Niijima and Shikinejima is really worthwhile. These islands will never cease to take your breath away especially with its natural beauty and calming surroundings. The sounds of the forests and the waves provides a break from the concrete, crowd and noise of the city. The relaxed pace of life and local hospitality will even make you want to stay longer. It is really good place to seek solace and solitude.