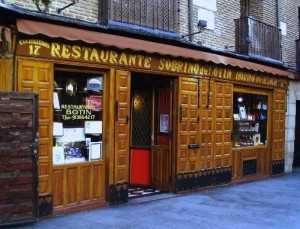 Cuisine
Castilian cuisine
Tried
Lettuce and Tomato Salad ……………….  6,95 €
Grilled Filet Mignon Botin ……………….. 26,45 €
Roast Baby Lamb ……………………….. 24,40 €
Chocolate cake ……………………………  6,45 €
Palacio de Menade Sauvignon Blanc …. 20,00 €
Experience
Restaurante Sobrino de Botín is strategically located near the Plaza Mayor, which is the central plaza in the city of Madrid. The restaurant is established in 1725 by a French man, Jean Botín and his spouse and was originally named as Casa Botín. Unluckily, the Botín's were not bestowed any descendants and the establishment was taken over by a nephew of theirs, Candido Remis, thus explaning the change in name to "Sobrino de Botín" meaning, Botín's nephew.
The restaurant was built on an old sixteenth century cellar vaulted ceilings and is currently made up of four floors, all of which have preserved the traditional tavern atmosphere. It is now a classic and a landmark of traditional cuisine in Madrid. The roast lamb and suckling pig is considered as the signature dish of the restaurant, which are roasted slowly and carefully in the old wood-fired oven giving it a tender, juicy, and delicate taste.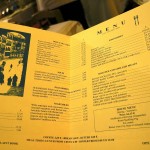 Being intrigued by a lot of good reviews and being recognized by the Guinness Book of Records as the oldest eatery in the world, we decided to try it for lunch. We arrived at the restaurant around past noon and the place was filled with lots of guests, and we were lucky to be given seats in the cellar which is quieter, ancient and has a lot of old world charm. We were provided with an English menu so we did not have a hard time choosing our dishes.
The service is good and quick. Not long after we ordered, the lettuce and tomato salad was served together with baguette breads. The salad comes with balsamic vinegar dressing and is quite sour but nonetheless, it was very refreshing and is a good appetizer.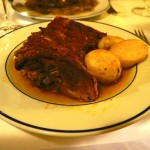 Our main dishes were served shortly after we finished the salad. The roasted baby lamb was served with roasted potatoes and came as a generous portion. The meat is very tender, juicy, perfectly cooked and surprisingly not greasy nor have an after taste unlike other lamb dishes that we've tried. Though I must say that the dish is a bit salty, which may be true for almost all the Spanish dishes that we've tried. However, the roasted potatoes are soft and moist which complemented the meat very well.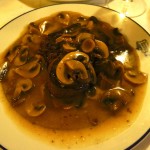 The filet mignon was served with lots of sauce topped with mushrooms. The meat is also very tender and well seasoned. The serving may not look huge, but it sure is filling.
Initially we thought that our choice of wine may not go well with our red meat main dishes as we ordered white wine but surprisingly, it still complemented the meal well. The wine has a smooth but crisp texture and doesn't have an acrid taste. We enjoyed drinking it that we didn't notice that we almost finished the entire bottle.
The chocolate cake dessert may not be top class but the restaurant however is well known for it's main dish and not dessert.
Dining in Restaurante Sobrino de Botín is really quite an experience. The food was delicious and the service was efficient with friendly and helpful staff. The food price also seemed reasonable for a high-end restaurant like this. The place is really worth a visit and guests will surely enjoy the food and the atmosphere of an establishment that has been operating for almost 300 years.
It is advisable to make a reservation when dining in the restaurant as the place can get fully packed especially during dinner. Bookings can be made via online, email or phone.


Address: Calle Cuchilleros, 17, 28005 Madrid, Spain
Tel: +34 913 664 217 | +34 913 663 026
Fax: +34 913 668 494
Mail: botin@botin.es | botin@restaurantebotin.com
Website: www.botin.es
Dinning Hours:
Lunch: 13:00 – 16:00
Dinner: 20:00 – 24:00