Visit Date: 11/01/2014 (Best viewing Time: late October to mid November)
The Fuji Five Lakes (富士五湖, Fujigoko) which consist of Yamada Lake, Saiko Lake, Motosu Lake, Motosu Lake, Shoji Lake, and Kawaguchi Lake is an arc region that lies at the northern foot of Mt. Fuji. The area provides a good spot to view Mt. Fuji from a close distance and it is also one of the best places to enjoy the autumn colors.
During our visit, the autumn colors at Lake Kawaguchiko, which is the most popular and most accessible lake, were at their peak, although still at the early stage. Red, yellow and orange trees surround the lake creating a gorgeous canvas of colors.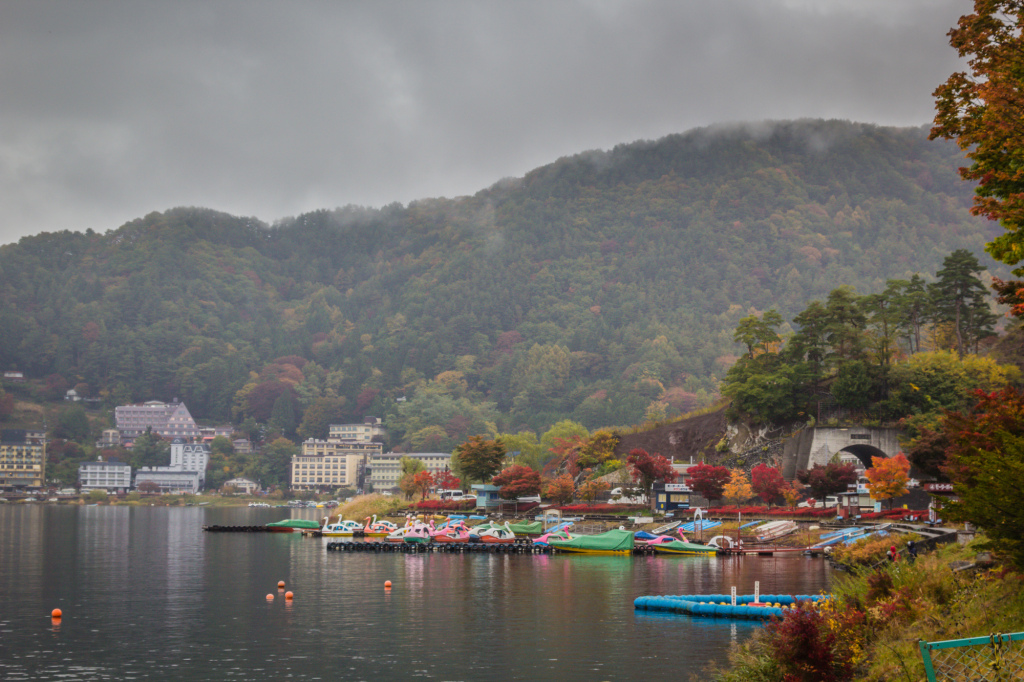 The colorful trees matches the colorful boats on the coast of Lake Kawaguchiko.
It was a cloudy day with forecast rain showers, but tourists still flock the area despite the drizzly weather.
Colorful trees surround the foot of Mt. Tenjo.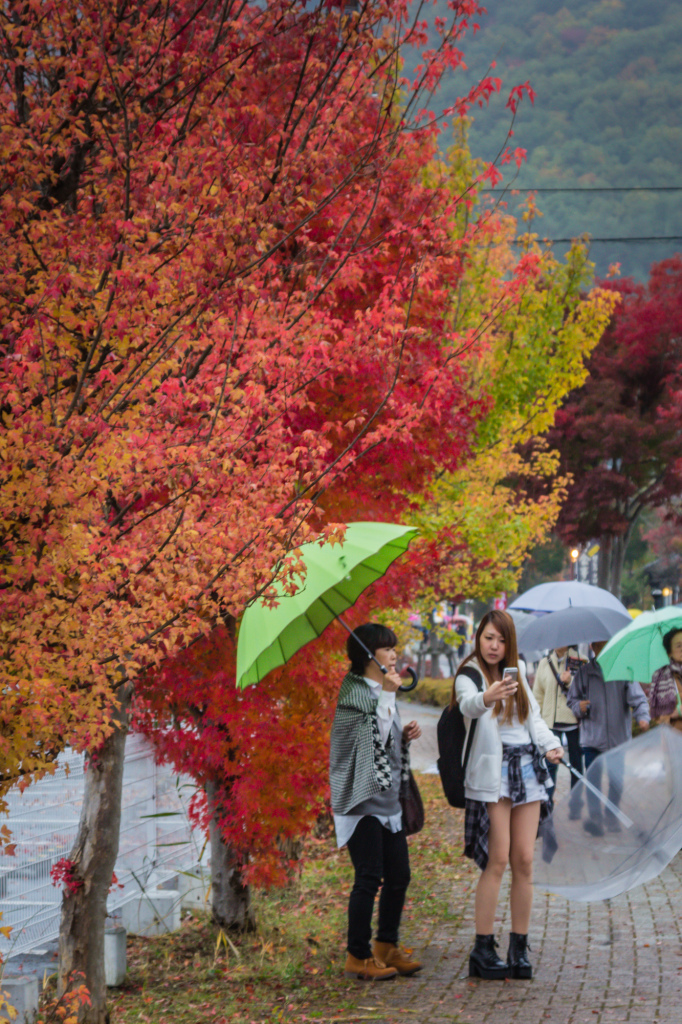 Visitors taking photographs with the stunning maple trees.
The Mt. Tenjo Ropeway also known as Kachi Kachi Ropeway, is an aerial lift from the eastern shore of Lake Kawaguchiko that brings visitors to an observation deck, over 1,000 meters above sea level, near the peak of Mt. Tenjo.
Round trip adult ticket to the ropeway costs ¥720 while child ticket costs ¥360.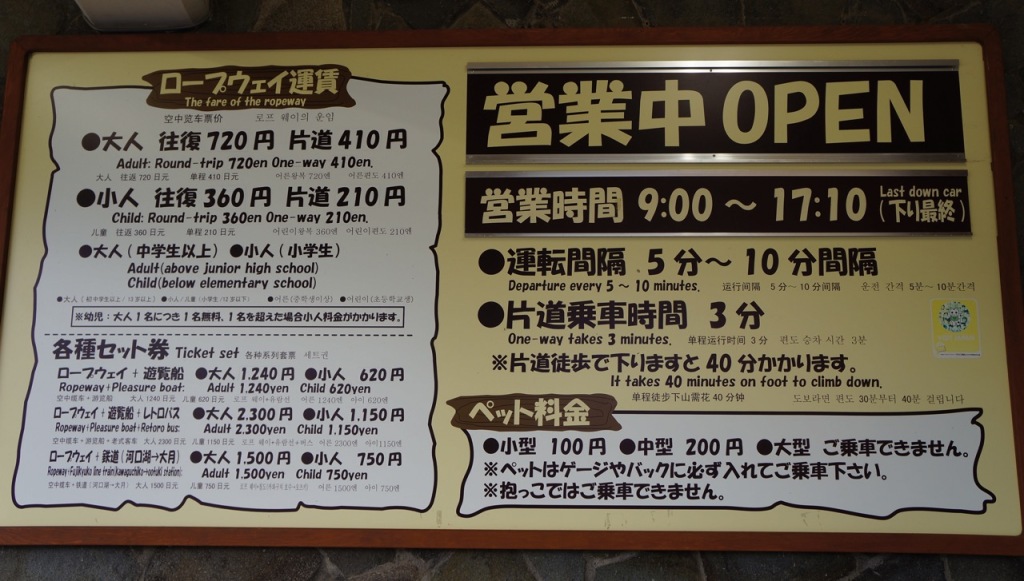 The observation deck offers a panoramic view of the lake, Mt. Fuji stretching to its skirts, and various nearby mountain ranges.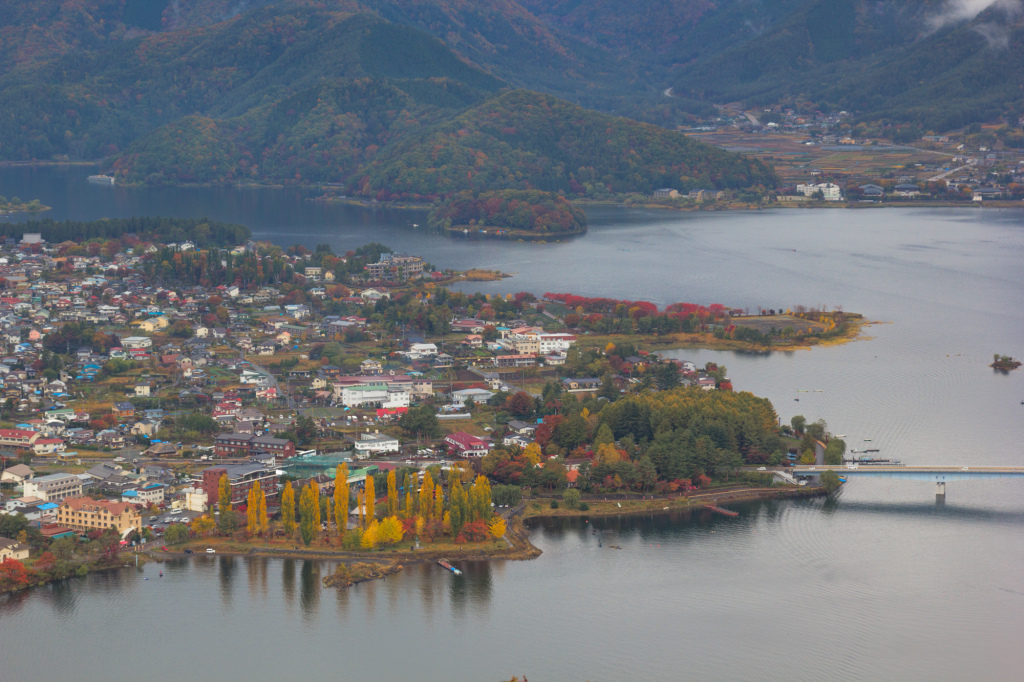 View of Lake Kawaguchiko as seen from Mt. Tenjo observation deck.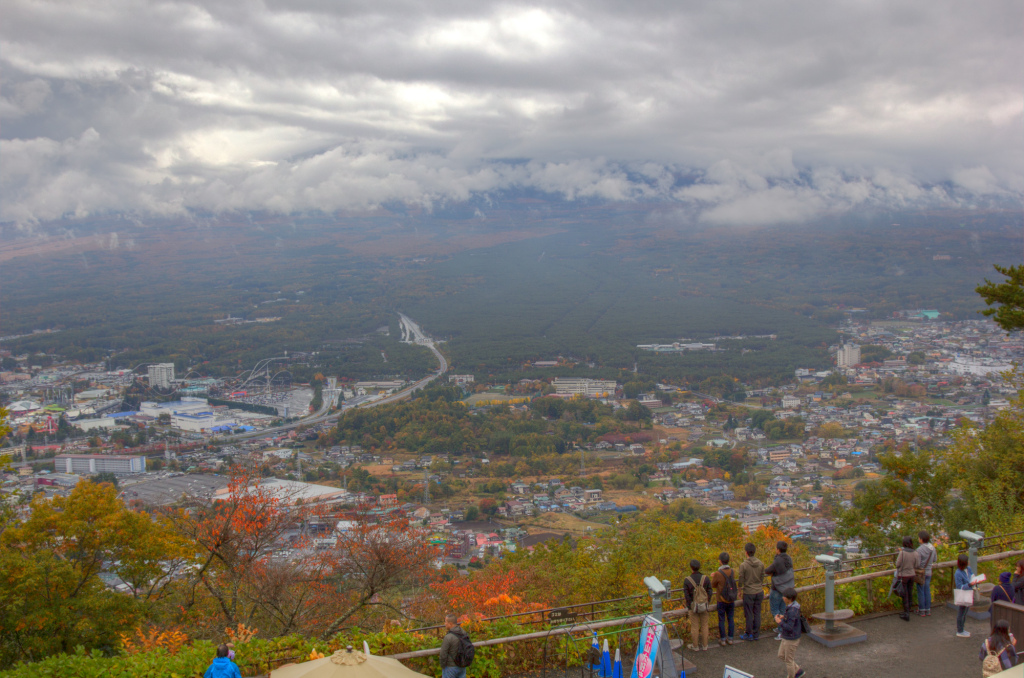 Mt. Fuji hiding behind thick clouds.
There is a trail from the observation deck leading to the summit of Mt. Tenjo with the hike up taking approximately 3 hours and 40 minutes.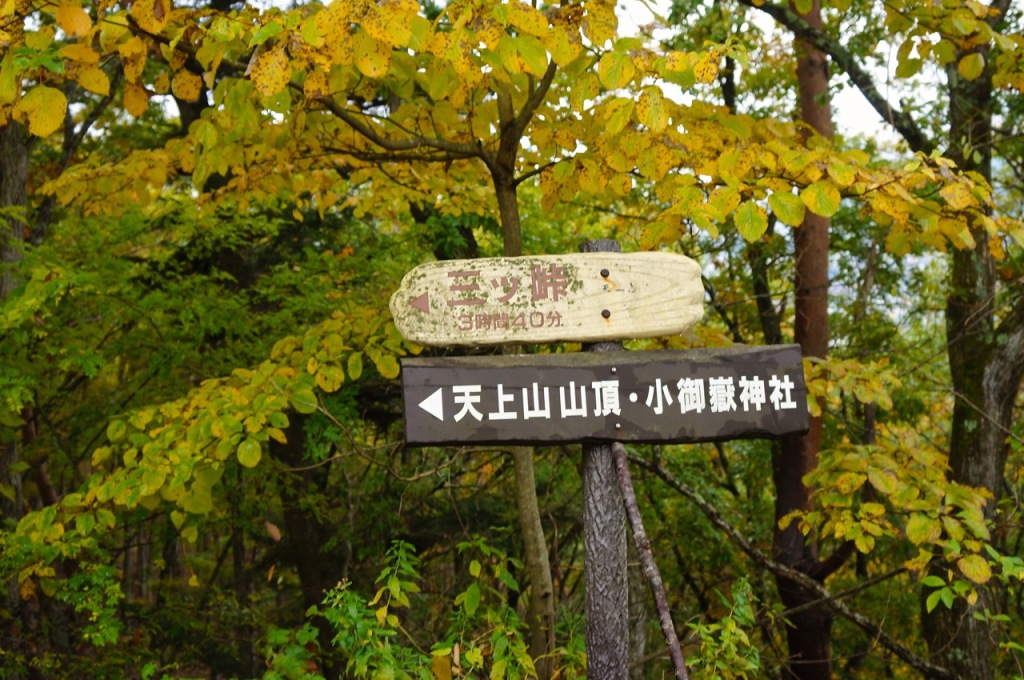 Sign indicating the approximate hiking time to Mt. Tenjo summit.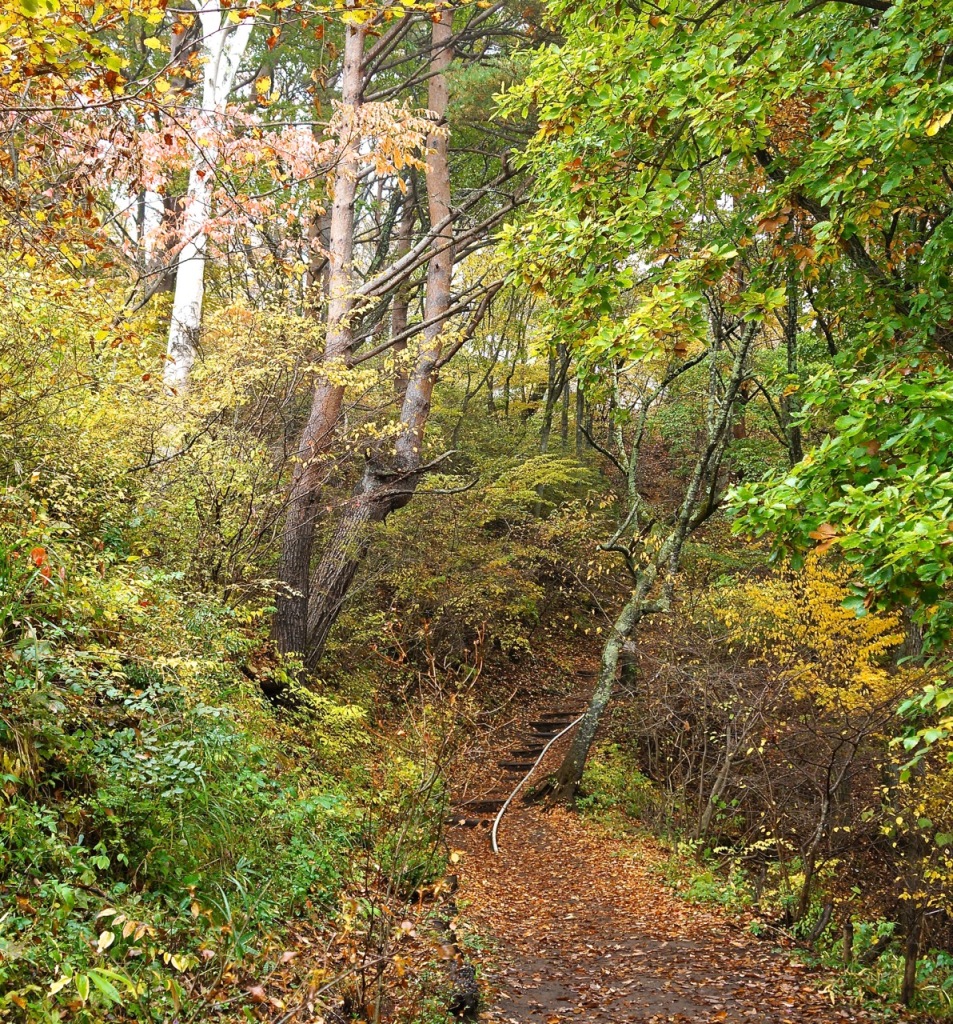 Trail leading to the peak of Mt. Tenjo.
If you are not up to the hike to the summit of Mt. Tenjo, there is another trail from the observation deck leading to the foot of Mt. Tenjo (down to Lake Kawaguchiko). The descent takes about 40 minutes and provides a forested mountain slopes with yellow, green, orange, and red leaves everywhere.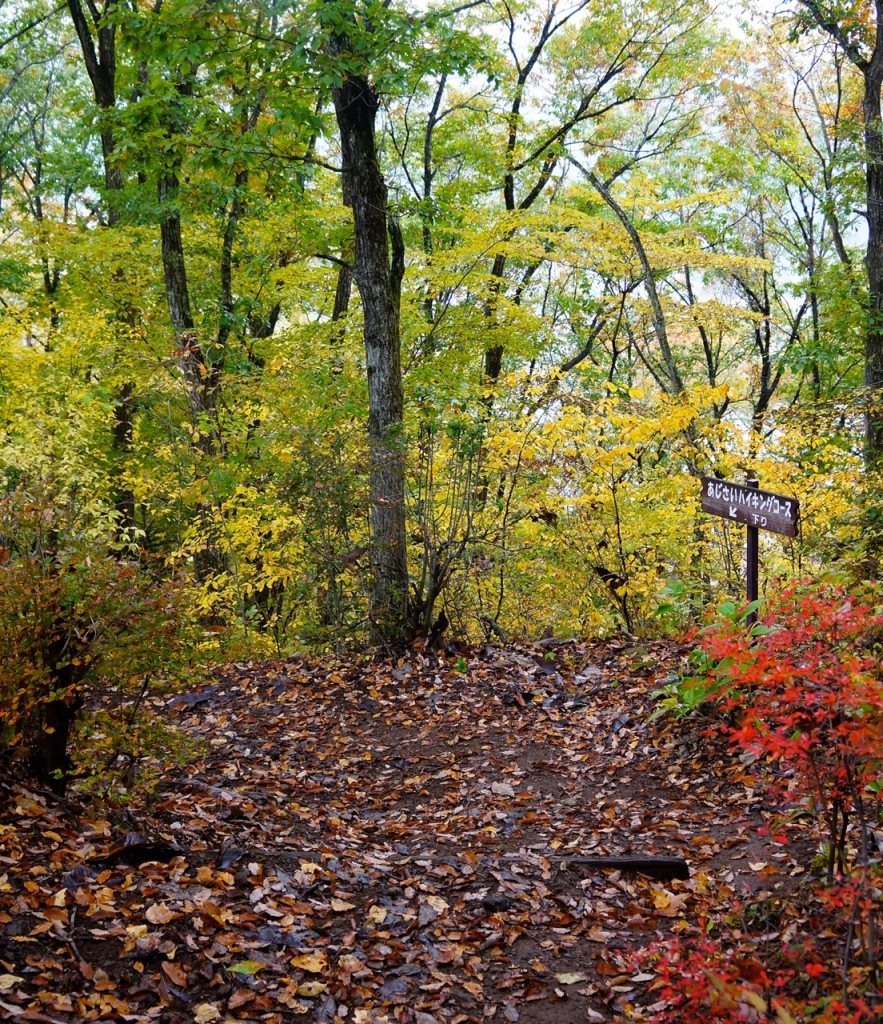 Start of the trail located near the Kachi Kachi ropeway.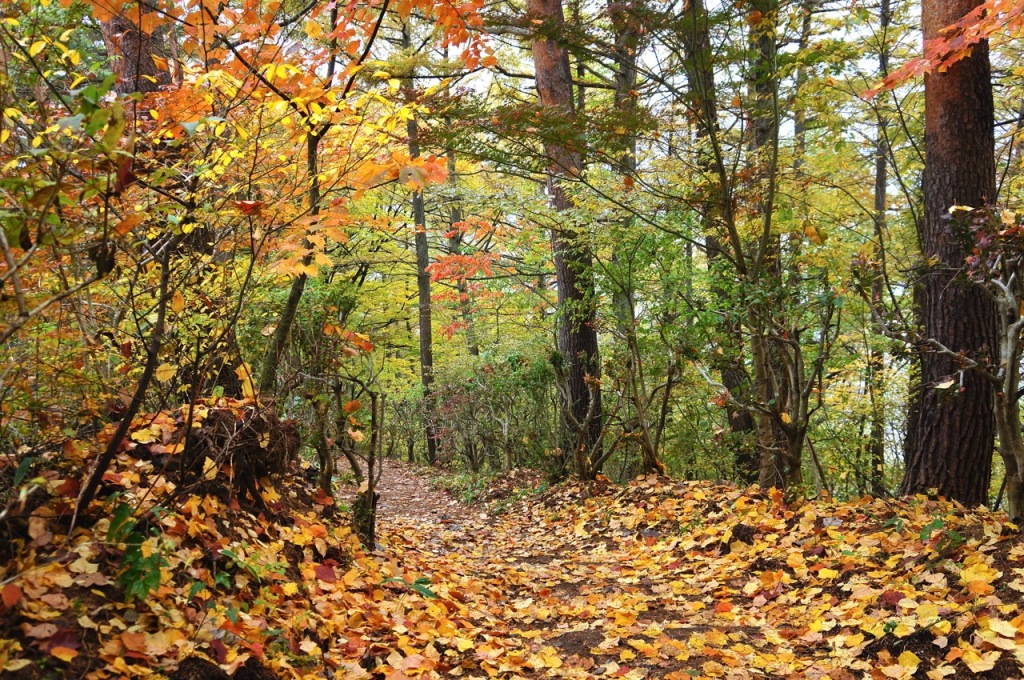 Lots of yellow & red sycamore leaves fallen on the ground.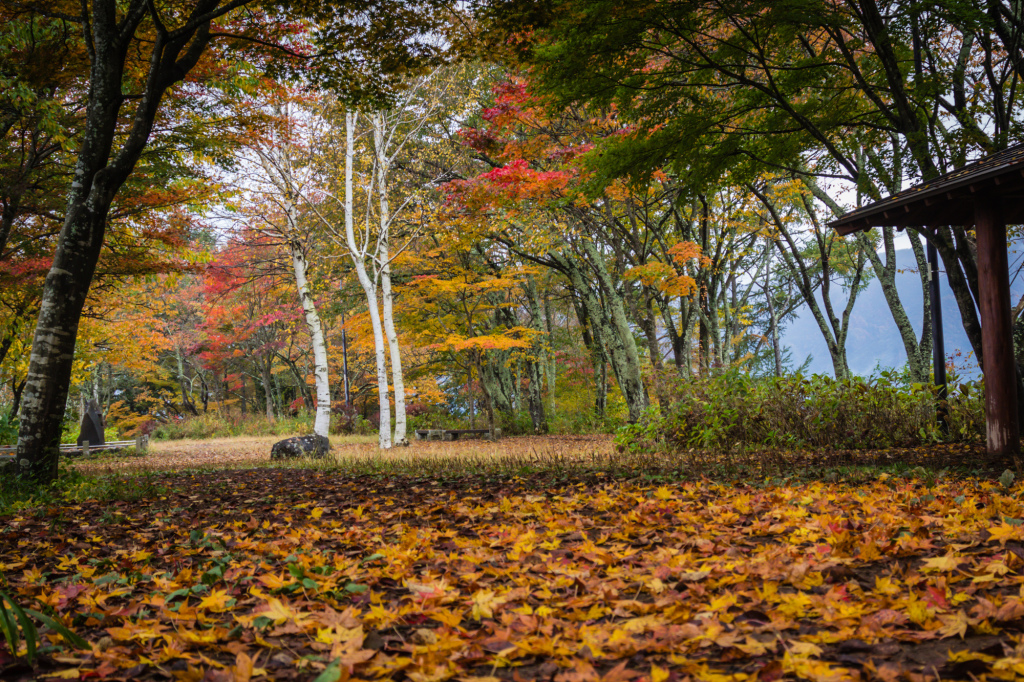 Beautiful foliage at Nakabadaira, an open space along the Tenjoyama Park trail, about 20 minutes to lakeside.
 Fallen momiji (maple) leaves.
The Momiji Kairou or the maple corridor is also one of the best autumn spot in Fujikawaguchiko. It is around 4.1 kilometers from the Kachi Kachi Ropeway. Visitors can reach it in about 52 minutes by foot from the ropeway or take the bus.
A stretch of lined-up maple trees creates a beautiful avenue. The entrance to the walkway were at their peak but the middle of the corridor however was still very green. The Koyo Festival at the Momiji Kairou will go on until November 24 with daily illumination until 22:00.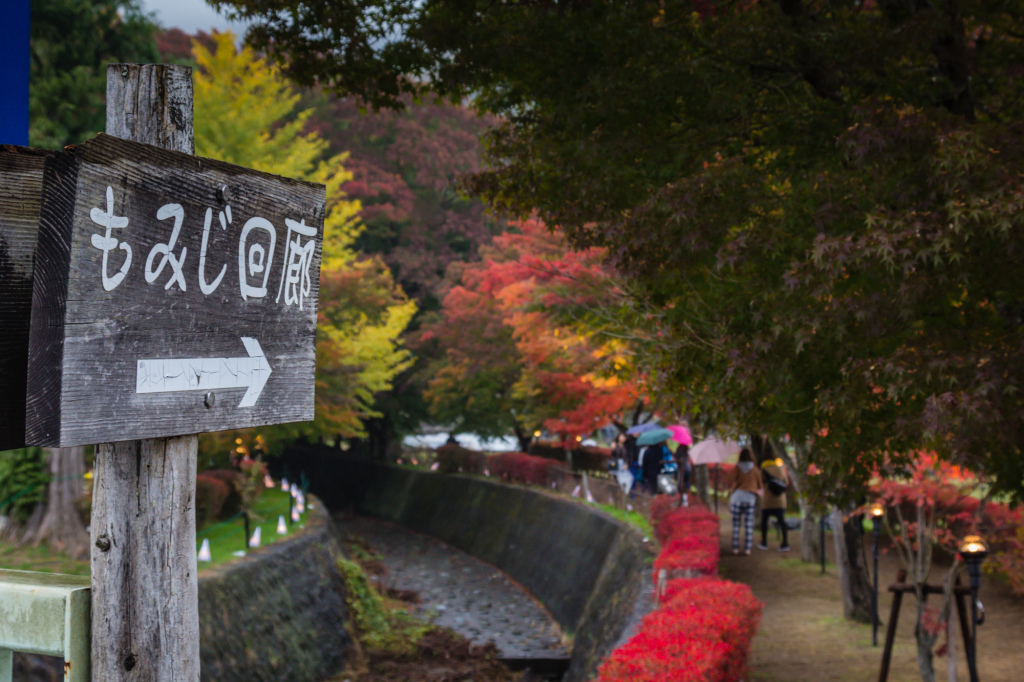 Entrance of Momiji Kairo.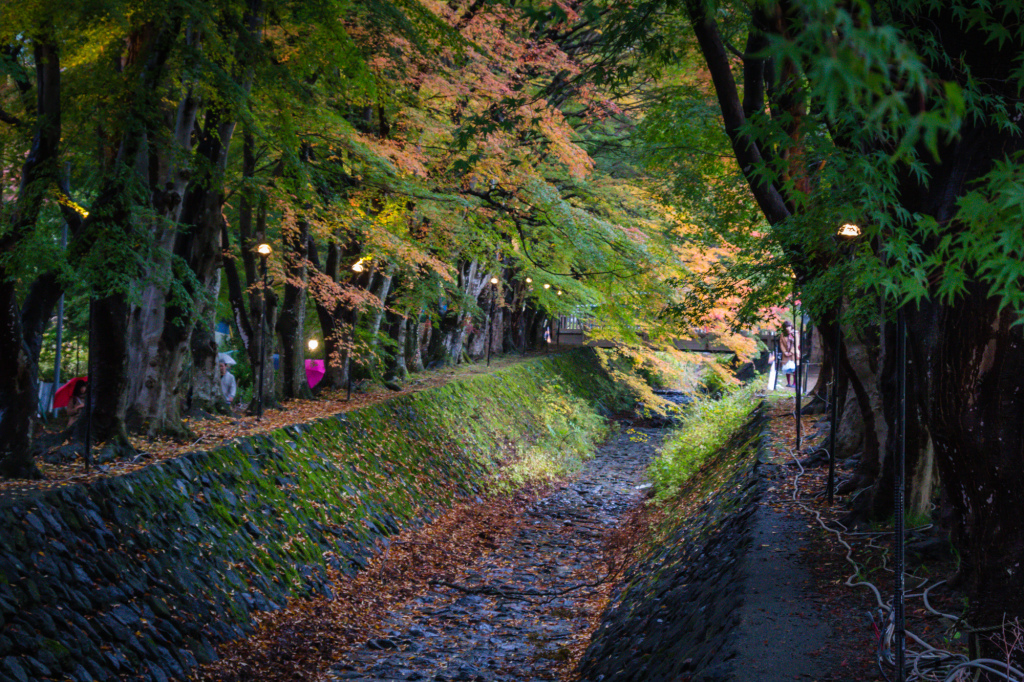 Other end of the corridor.