Mountain climbing is a popular activity in Japan all through out the year. It serves as a good workout and presents hikers a chance to commune with nature. There are various mountains which are accessible to central Tokyo and provides a good day hike.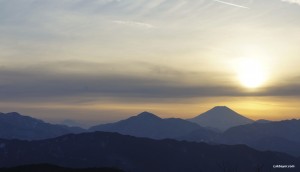 Mt. Takao
Located in the city of Hachioji, which is about 50 kilometers from central Tokyo. It is a relatively short 50 minute train ride from Shinjuku via Keio Railways' Limited Express. Takaosan stands at 599 meters tall and offers different hiking trails which varies from the broad & paved hiking paths to narrow nature trails that leads up the slopes & travels along the valleys and limpid waters through a forest of low cedars.
Climbing Mt. Takao
Visitors to the mountain can choose to reach the summit by hiking from the base (Ascent: 30-100 mins depending on the trail) or they can take a cliff railway or chairlift (15mins) ride leading halfway up the mountain.
Nearest Station: Takaosanguchi station
Train: Keio Railways' Limited Express, JR East Chuo Line
Related article(s): Mt. Takao, a natural recreation area near the city; Takao-san Winter Hike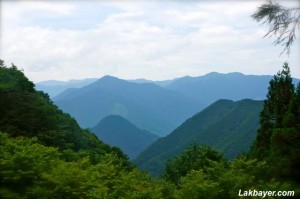 Mt. Mitake
part of the Chichibu-Tama-Kai National Park which covers Tokyo, Yamanashi, Saitama, and Nagano prefectures. It stands at 929 meters tall and offers various walking and hiking paths for both new and pro hikers. Mt. Mitake can be reached in less than 2 hours from central Tokyo. The Musashi-Mitake Shrine is the peak of the mountain and possesses many Japanese styled inns and souvenir shops. From the shrine, the options to extend the adventure seems limitless as there are various hiking options to the neighboring peaks and valleys.
Climbing Mt. Mitake
Take the Keio shuttle bus located 50 meters to the left of the train station that travels to Takimoto village. Then transfer to the Mitake-Tozan Railway cable car which operates from the foot of the mountain to the upper cable car station. From there, it is a short 20-30 minute walk to the Musashi-Mitake Shrine. Further hiking towards the rock garden, falls, and the neighbouring Mt. Otake is also possible from the shrine.
Nearest Station: Ome station
Train: JR East Chuo Line & JR Ome Line
Related article(s): Mt. Mitake, unspoiled nature near the city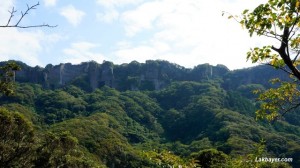 Mt. Nokogiri
A 329.4 meters tall mountain located at the southwest part of Chiba Prefecture. It provides good hiking and fascinating scenery but is less popular than those located in the western part of the city. It has a serrated ridge as it used to be a quarrying area for stones used in construction during the Edo Period. The trip from Shinjuku to Hamakanaya Station takes about 1 hour and 48 minutes.
Climbing Mt. Nokogiri
Visitors can reach the mountain top either by hiking (Ascent: approximately 60 minutes with the trails starting about 15 minutes from the port or 10 minutes from Hamakanaya JR station), taking the ropeway or by car.
Nearest Station: Hamakanaya JR station or Hota JR station
Train: JR Sazanami Limited express or Sobu Line and Uchibo Line
Related article(s): Mt. Nokogiri, the "Saw-Toothed Mountain"

Okutama
A mountainous region in Nishitama District which is around 2 hours away from central Tokyo and forms a part of the Chichibu-Tama-Kai National Park. It is perfectly located for easy enjoyment of the outdoors and it offers various walking and hiking trails which is suitable for climbers of all ages. Visitors can stroll at their own pace through teeming verdant environments as they refresh their body and mid.

Hiking in Okutama
Okutama offers 2 courses: the Okutama-mukashi-michi course (Okutama station -> Lake Okutama route) which is approximately 9 kilometers and takes about 4 hours and the Otama walking trail (Kori -> HIkawa route) which is approximately 8 kilometers and takes about 2 hours.
Nearest Station: Okutama station
Train: JR East Chuo Line & JR Ome Line

Related article(s): Okutama Autumn Hike: Mukashi-michi Route