Mt. Takao which is located in the city of Hachioji, stands at 599 meters tall and is one of the closest natural recreation areas to central Tokyo.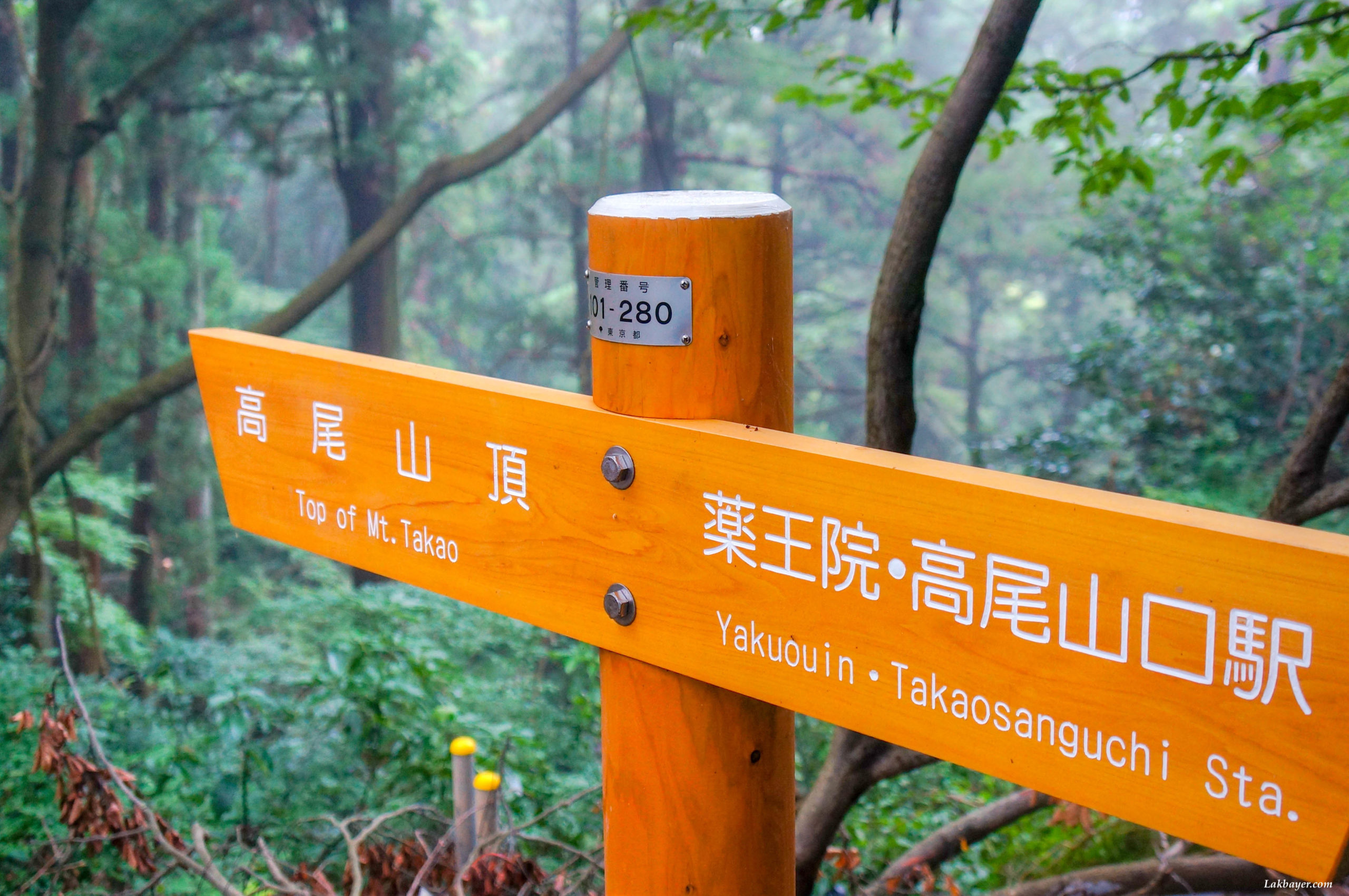 It offers 7 hiking trails and lots of attractive scenery. The trails ranges from the broad & paved hiking path to narrow nature trails that leads up the slopes & travels along the valleys and limpid waters through a forest of low cedars. In just approximately an hour away from the metropolis, Takaosan is really an accessible place when one wants to commune with nature. It can definitely provide a good break from the concrete and crowds of the city.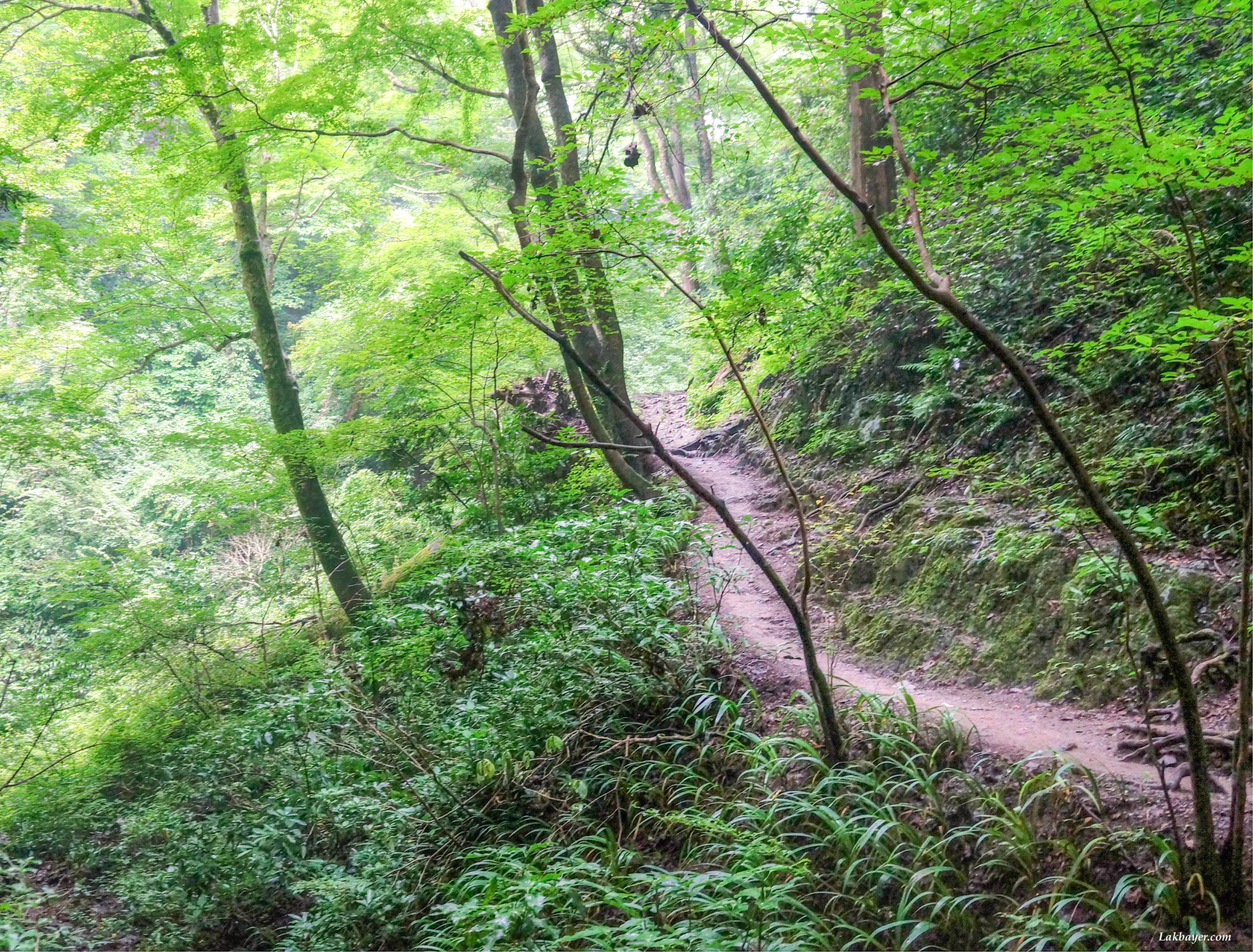 Portion of the Biwa Waterfall Trail
Sacred Mountain
Takaosan is not only a popular hiking spot but a religious destination as well. It is considered as a sacred mountain and has been a center of mountain worship for more than 1,000 years. Takaosan Yakuoin Yukiji Temple built in 744 stands near the mountain top. Visitors can pray to the Shinto-Buddhist mountain gods for good fortune. Ascetic Buddhists also practice waterfall asceticism in Mt. Takao where they stand beneath a waterfall while reciting mantras and sutras. The rite can be observed by visitors in the Biwa-taki waterfall during the 1st Saturday, 18th and 28th of the month or 1st Saturday, 17th and 27th of the month in the Ja-taki waterfall.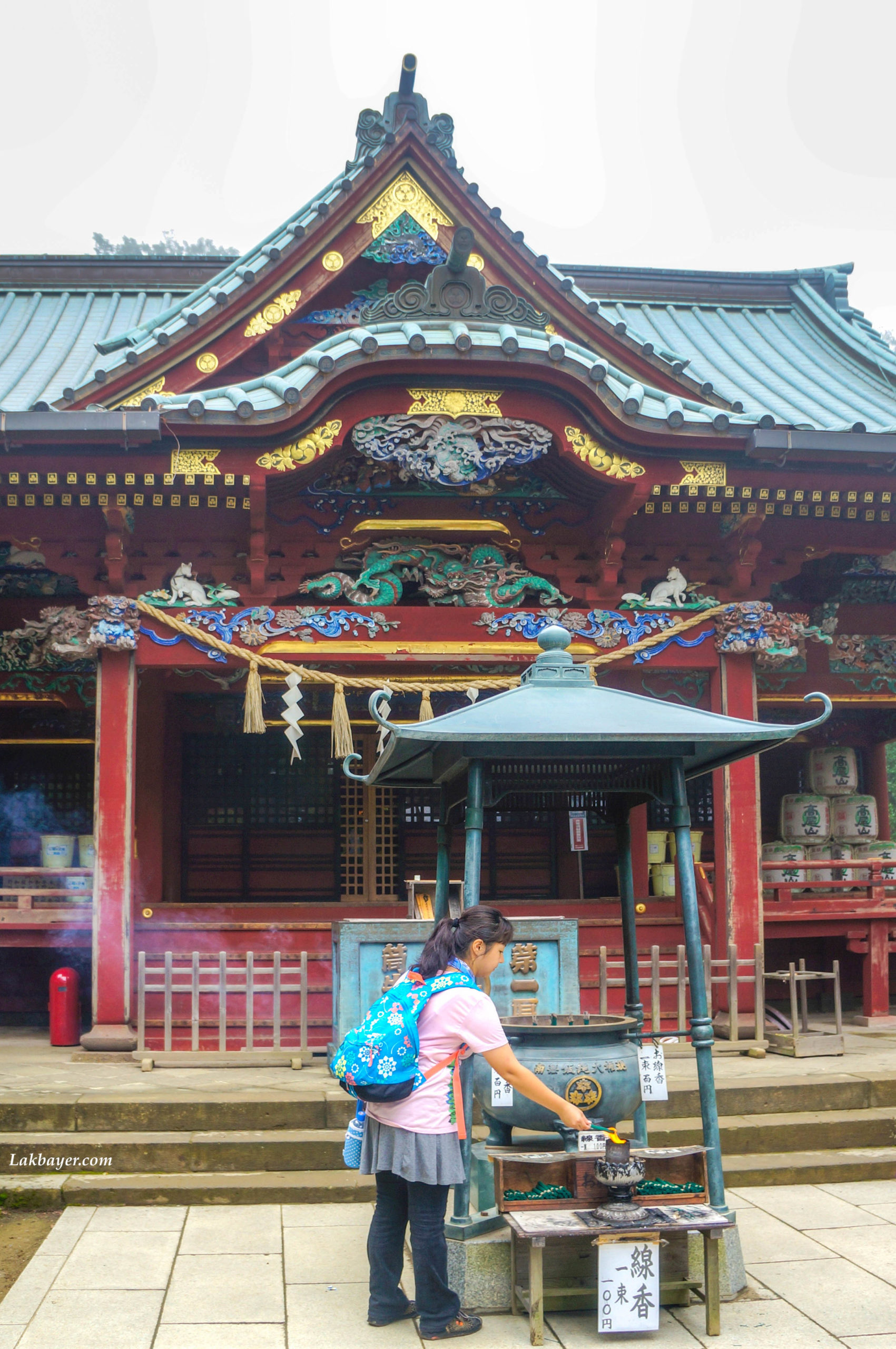 Mt. Takao is also closely associated with devotion to tengu, a long-nosed mythical figure. Tengu is believed to be a sacred being who mastered the rigorous ascetic disciplinary customs associated with an ancient Japanese practice of mountain worship to acquire magical and spiritual powers. Tengu are depicted to dwell on sacred mountains acting as the messengers of the deities and Buddhas to chastise evildoers and protect the good. The statue is now a symbol of Mt. Takao.
Climbing Mt. Takao
Visitors to the mountain can choose to reach the summit by hiking from the base or they can take a cliff railway or chairlift ride leading halfway up the mountain. The cable car and chairlift services are operated by Takaotozan Railway.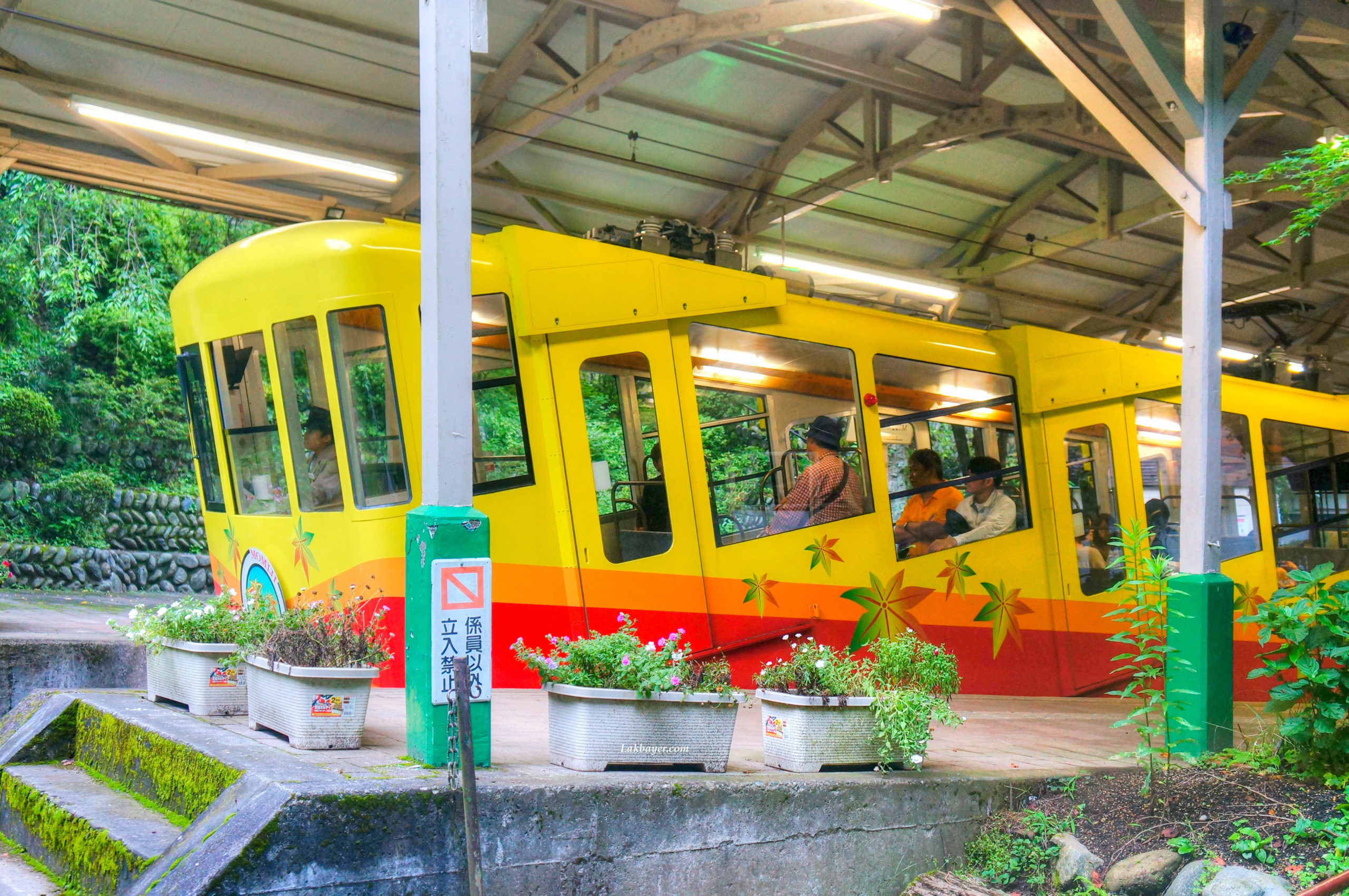 by Cable Car
One-way cable car ride takes about 6 minutes and the service runs every 15 minutes. First departure starts at 8:00 AM – this may however start earlier depending on congestion levels. Last departure varies depending on the month and congestion levels. (Refer to the timetable for reference)
by Chair Lift
One-way lift ride takes approximately 12 minutes with the first departure starting at 9:00 AM. Last lift departure is at 4:30 PM for the months of May to November or 4:00 PM for the months of December to April. The lift schedule may however extend depending on congestion levels.
Cable Car and Lift Fares
Regular Fares
Group Discount


(25 or more)

Group Discount


(100 or more)

Adult
Child
Adult
Child
Adult
Child
One-way
¥ 470
¥ 230
¥ 420
¥ 210
¥ 400
¥200
Round-Trip
¥ 900
¥ 450
¥ 800
¥ 400
¥ 750
¥ 380

For Regular Fares:
* Children 3 years and older are charged child fares.
* Junior high school students and older are charged adult fares.
by Foot
Hiking time from the foot of the mountain depends on the trail.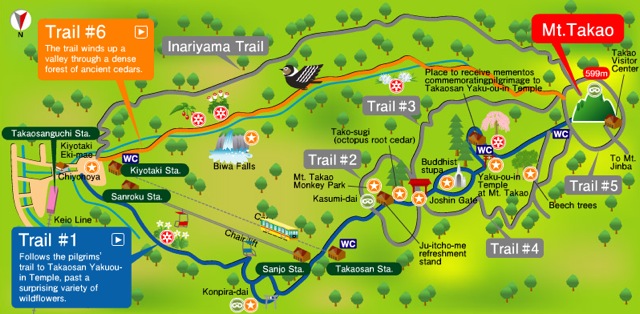 Trail
Length
Ascent
Descent
# 1
3.8 km
100 mins
90 mins
# 2
0.9 km
 30 mins (one loop)
# 3
2.4 km
 60 mins
50 mins
# 4
1.5 km
 50 mins
40 mins
# 5
0.9 km
 30 mins (one loop)
# 6
3.3 km
 90 mins
70 mins
Inariyama
3.1 km
 90 mins
70 mins
The summit offers a great view of Tokyo, Mt. Fuji, and as far as Yokohama. The view are best on winter months when the air is drier and clearer.

Other Scenery
The Takaosan Natural Zoo and Botanical Garden is situated near the top of the cabe car terminal. Playful monkeys that that range freely throughout the area welcomes the visitors of the zoo. The Botanical Garden on the other hand is a home to different kinds of wild plants with some of the species currently in danger of extinction. The park entrance costs ¥400 for adults and ¥2,300 for children. It is open from 10 AM to 4 PM but hours may vary seasonally.

Accessibility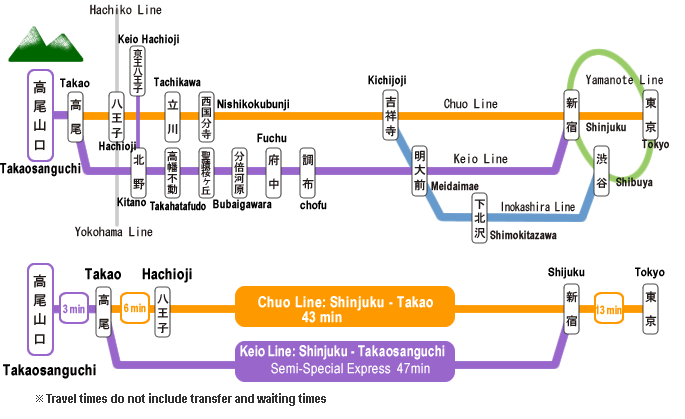 A direct train service to the foot of the mountain is operated by Keio Railways. The express train from Shinjuku station to Takaosanguchi station is the fastest and cheapest connection to Mt. Takao which takes around 50 minutes and cost ¥390.
JR East Chuo Line also offers a rapid train service from Shinjuku station to Takao station. This takes around 47 minutes and cost ¥550. However, if this line is taken, a transfer from Takao station to Takaosanguchi station is required via Keio-Takao Line which takes another 3 minutes and costs ¥130.

Useful Info:
Takao Visitor Center (Located at the peak of Mt. Takao)
Address: Takao-machi 2176 Hachioji-shi Tokyo 〒193-0844
Official Site: ocn.ne.jp/takao
Alternative Site: Takaotozan.co.jp
Inquiries: 042-664-7872
Hours: 10 AM to 4 PM
* TheVisitor Center is closed on the 3rd Monday of the month.