"You expected to be sad in the fall. Part of you died each year when the leaves fell from the trees and their branches were bare against the wind and the cold, wintery light."
― Ernest Hemingway, A Moveable Feast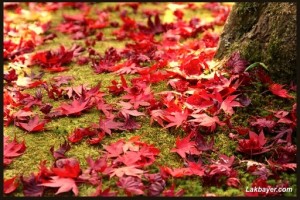 Most of the people especially poets often associate autumn to melancholy. As the bright and brilliant summer is gone and replaced by the shedding of leaves from the trees signifying the lost of possibilities and opportunities with the chill of winter in the horizon. As the night becomes noticeably earlier, the skies turn grey, many people also turn inward, both physically, mentally and emotionally.
But in Japan, autumn is an exciting season – the entire country becomes mesmerized with nature's breathtaking palette of autumn colors. Trees turn from beautiful green into yellow, orange and shiny bright red. Starting mid September, the "koyo font" (front of autumn colors) slowly moves from the northern island of Hokkaido towards the lower elevations of central and southern part of Japan.
---

When do leaves change colors?
Autumn leaves can be enjoyed around the country for around three months. In some locations, colors can be enjoyed until December. Year to year, the timing of the autumn leaf season can vary by a few days to one or two weeks, depending on the temperature during the preceding months and weeks. Typically, the best time for koyo viewing around Japan as provided by Japan Guide are as follows:
 HOKKAIDO

mid Sep

late Sep

early Oct

mid Oct

late Oct

early Nov

mid Nov

late Nov

early Dec

 Daisetsuzan

 

 

 

 

 

 

 

 

 

 Shiretoko

 

 

 

 

 

 

 

 

 

 Akan

 

 

 

 

 

 

 

 

 

 

Noboribetsu

 

 

 

 

 

 

 

 

 

 

Shikotsuko

 

 

 

 

 

 

 

 

 

 Jozankei

 

 

 

 

 

 

 

 

 

 Onuma Park

(Hakodate)




 

 

 

 

 

 

 

 

 
 Tohoku

late Sep

early Oct

mid Oct

late Oct

early Nov

mid Nov

late Nov

early Dec

 Hachimantai

(Akita)




 

 

 

 

 

 

 

 

 Urabandai

(Fukushima)




 

 

 

 

 

 

 

 

 Shirakami Sanchi

(Aomori)




 

 

 

 

 

 

 

 

 Lake Towada

(Aomori)




 

 

 

 

 

 

 

 

 Naruko Gorge

(Miyagi)




 

 

 

 

 

 

 

 

 Hiraizumi

(Iwate)




 

 

 

 

 

 

 

 
 Kanto

late Sep

early Oct

mid Oct

late Oct

early Nov

mid Nov

late Nov

early Dec

 Oze

(Gunma)




 

 

 

 

 

 

 

 

 Nikko

(Tochigi)




 

 

 

 

 

 

 

 

 Minakami

(Gunma)




 

 

 

 

 

 

 

 

 Hakone

(Kanagawa)




 

 

 

 

 

 

 

 

 Sakurayama

(Gunma)




 

 

 

 

 

 

 

 

 Tokyo

 

 

 

 

 

 

 

 

 Kamakura

(Kanagawa)




 

 

 

 

 

 

 

 
 Chubu

late Sep

early Oct

mid Oct

late Oct

early Nov

mid Nov

late Nov

early Dec

 Alpine Route

(Toyama)




 

 

 

 

 

 

 

 

 Kamikochi

(Nagano)




 

 

 

 

 

 

 

 

 Karuizawa

(Nagano)




 

 

 

 

 

 

 

 

 Fuji Five Lakes

(Yamanashi)




 

 

 

 

 

 

 

 

 Kurobe Gorge

(Toyama)




 

 

 

 

 

 

 

 

 Eiheiji

(Fukui)




 

 

 

 

 

 

 

 

 Shosenkyo

(Yamanashi)




 

 

 

 

 

 

 

 

 Kanazawa

(Ishikawa)




 

 

 

 

 

 

 

 

 Izu Peninsula

(Shizuoka)




 

 

 

 

 

 

 

 
 Kansai

late Sep

early Oct

mid Oct

late Oct

early Nov

mid Nov

late Nov

early Dec

 Koyasan

(Wakayama)




 

 

 

 

 

 

 

 

 Yoshino

(Nara)




 

 

 

 

 

 

 

 

 

Kyoto

 

 

 

 

 

 

 

 

 Osaka

 

 

 

 

 

 

 

 
 Chugoku

late Sep

early Oct

mid Oct

late Oct

early Nov

mid Nov

late Nov

early Dec

 Daisen

(Tottori)




 

 

 

 

 

 

 

 

 Miyajima

(Hiroshima)




 

 

 

 

 

 

 

 
 Shikoku

late Sep

early Oct

mid Oct

late Oct

early Nov

mid Nov

late Nov

early Dec

 Shodoshima

(Kagawa)




 

 

 

 

 

 

 

 

 Kotohira

(Kagawa)




 

 

 

 

 

 

 

 
 Kyushu

late Sep

early Oct

mid Oct

late Oct

early Nov

mid Nov

late Nov

early Dec

 Kuju Mountains

(Oita)




 

 

 

 

 

 

 

 

 Kirishima

(Kagoshima)




 

 

 

 

 

 

 

 

 Dazaifu

(Fukuoka)




 

 

 

 

 

 

 

 
---

What trees change color?
As autumn deepens and the nighttime temperature drops, the leaves of nature also turns into many different colors. There are variety of trees contributing the wonderful colors of autumn.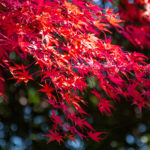 Momiji (Maple Tree)
The maple tree is the indisputable and most popular tree during autumn. Its bright red leaves and pleasing form makes it a very attractive fall foliage. In Japan, the word "koyo" (autumn-colored foliage) and "momiji" are written with the same kanji characters – 紅葉. Maple trees are native in the country and mostly found in Japanese gardens, temples, and traditional gardens in Kyoto. They can also be found in the forests, mountains, and some city parks.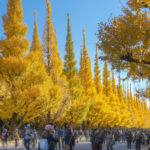 Icho (Ginkgo Tree)
The ginkgo tree also known as the maidenhair tree is another prominent tree for autumn colors. Its leaves with a unique fan-shaped with veins radiating out into the leaf blade and sometimes splitting turns to deep saffron yellow during autumn. Ginkgo trees are more easily found in temples, shrines, urban parks, and along city streets.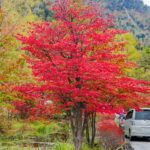 Nanakamado (Japanese Rowan)
The Japanese rowan is a species of flowering shrub whose leaves changes to magnificent yellow, deep purple or red in autumn. These trees are mostly found in the higher elevations of the mountainous areas and its small to medium sized, conical shaped tree offers a particularly nice view above the tree line in the mountain slopes.
Karamatsu (Japanese Larch)
The Japanese larch is a deciduous coniferous tree that rivals the ginkgo tree during autumn. It'd needle-like leaves turns to brilliant yellow colors and fall in the late autumn, leaving the trees leafless through the winter. It is also mostly found in areas with higher elevation like the mountains of Chubu and Kanto regions in central Honshu.
Kusamomiji (Grass Autumn Leaves)
Kusamomiji are grasses in the marshlands and on mountainous plains and slopes in Japan that turn to yellow, orange, golden brown and some even fades to fascinating red in autumn. Looking at the swaying autumnal grasses against the sun gives an admirable picturesque of the marshlands.
---

Where to view autumn leaves?
Appreciating the beauty of autumn has been a custom in Japan for centuries not only for local Japanese but for tourists as well. The autumn foliage, draws considerable number of travelers to famous "koyo" (colorful autumn leaves) spots both in the mountains and in the city. Here are some of the best places in and around Tokyo to view and enjoy the autumn leaf season.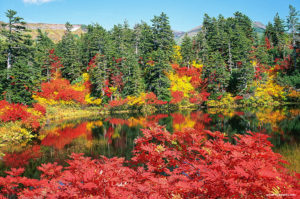 Daisetsuzan National Park
(Hokkaido, mid September to mid October)
As the autumn-leaf season begins in September (mid to late September), the Daisetsuzan mountain ranges, the largest national park in Japan situated in the center of Hokkaido, are the first places in Japan to experience the autumn colors. A spectacular blazing fall colors are best enjoyed by hiking into the higher elevations around Kogen Onsen, Ginsendai, or taking the ropeway to Mt. Asahidake.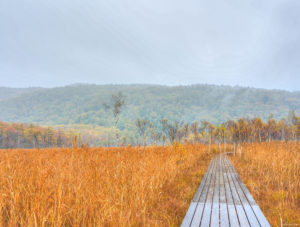 Oze National Park
(Kanto, Gunma – late September to mid October)
A nearly 37,200 hectares park spanning the 4 prefectures of Gunma, Fukushima, Niigata, and Tochigi, Oze has been designated as the 29th National Park in Japan. It is popular for the Ozegahara Marshland and Ozenuma Pond during autumn. There are well-maintained trails around Oze which includes wide elevated boardwalks that pass over the marshland and pond. It provides a stunning view of the marshland that seem to shine like gold. The vibrant autumnal hues of the surrounding forests in and around Oze also contribute to the gorgeous landscape.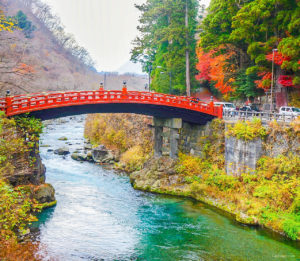 Nikko National Park
(Kanto, Tochigi – early October to mid November)
Considered as one of the most beautiful park in Japan, Nikko National Park is a popular destination for Japanese and international tourists during the fall season. It offers scenic mountainous landscapes, various hiking trails, marshes, lakes, waterfalls, and hot springs. The Okunikko region around Lake Chuzenji and Lake Yumoto is remarkable during most of October. The town of Nikko usually experience the autumn foliage in mid November.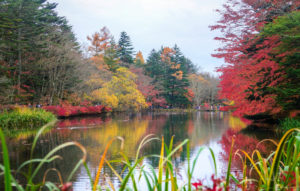 Karuizawa
(Chubu, Yamanashi – mid October to early November)
Karuizawa is a laid-back town located at the foot of the active volcano Mt. Asama in southeastern Nagano, Japan. The town possesses an attractive fall season which is best enjoyed by cycling, hiking, or visiting the popular viewing locations.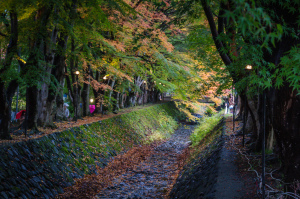 Fuji Five Lakes
(Chubu, Yamanashi – late October to mid November)
Lying at the northern base of Mt. Fuji, the Fuji Five Lake region consisting of the lakes Kawaguchiko, Saiko, Yamanakako, Shojiko, and Motosuko is one of the best spot to view the iconic mountain in combination with autumn colors. Lake Kawaguchiko provides a great viewing spot with the bright red momiji leaves covering "Momiji Kairo", a boardwalk located at the northern shore.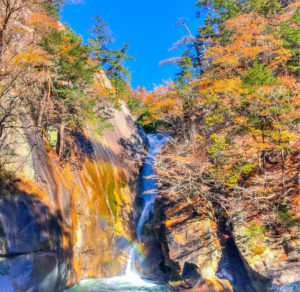 Shosenkyo Gorge
(Chubu, Yamanashi – late October to mid November)
The Shosenkyo Gorge is located in north Kofu and is a part of the Chichibu Tama Kai National Park. It is one of Japan's most beautiful gorge and also one of the most popular autumn spot in Yamanashi. The 4 kilometers hiking path along the Arakawa River provides a beautiful scenery of the mountain river, fascinating waterfalls, lofty cliffs, and interestingly shaped rocks that resemble and named after animals, which is a standout feature of Shosenkyo Gorge.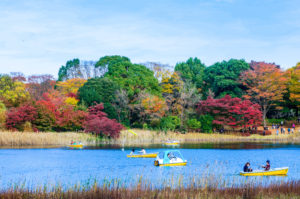 Showa Kinen Park
(Kanto, Tokyo – early to mid November)
A huge city park built to commemorate the 50th anniversary of the reign of Emperor Showa. Some of the higlights of the park include the Ginkgo Avenue which has over 100 ginkgo trees lining up the fountains and canals around the Tachikawa entrance and create a radiant yellow carpet of leaves. Another highlight is the Japanese garden where several dozen of maple trees surround the pond. The path along the lake is especially beautiful as it is blanketed in autumn colors.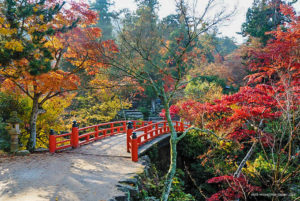 Miyajima
(Chugoku, Hiroshima – mid November)
Miyajima is a small island less than an hour outside the city of Hiroshima and is one of the most visited spots in Japan. It is most famous for its giant torii gate, which at high tide seems to float in water. The island is especially beautiful during autumn as it offers stunning views of the mountains, sea, and red shrine buildings blending together in harmony amid the vivid colors of the autumn leaves.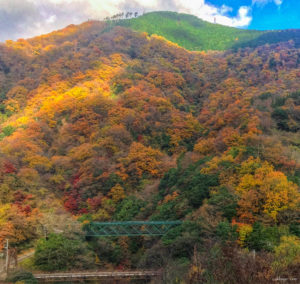 Hakone
(Kanto, Kanagawa – early to late November)
Hakone is a part of the Fuji-Hakone-Izu National Park, which is less than 100 kilometers from Tokyo. It is famous for hot springs, traditional crafts & leisure activities through out the year but it also provides a natural beauty during the autumn leaf season. It presents visitors with a great view of the nearby Mt. Fuji and amazes autumn foliage observers through its beautiful gardens, on museum grounds, and even from buses and trains.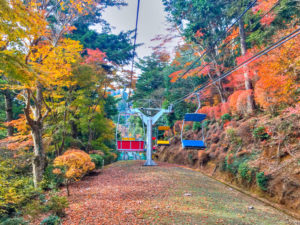 Mt. Takao
(Kanto, Tokyo – mid to late November)
Located within the municipal boundaries of Hachioji, Mt. Takao is one of the most popular hiking spots in Tokyo as it is only about 50 kilometers from the city. Cable car passengers are welcomed with the mountains natural beauty and magnificent scenery of the autumn foliage, when different colors set the mountain ablaze. Hikers can also enjoy the autumnal natural surrounding where nature trails leading up the slopes create a marvelous mixture of fall colors.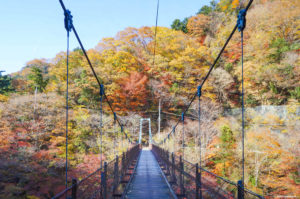 Okutama
(Kanto, Tokyo – mid to late November)
A mountainous region in Nishitama District located along the Tama River, which is at the western most end of Tokyo and forms a part of the Chichibu-Tama-Kai National Park. The town has numerous mountains with various hiking courses passing through pristine waters, clean streams, waterfalls, shrines, suspension bridges and offers stunning landscapes.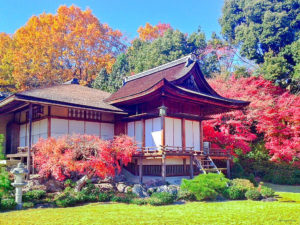 Kyoto
(Kansai, Kyoto – mid November to early December)
Kyoto is considered as Japan's most beautiful city. The city is home to many famous and lesser known autumn leaf viewing spots and displays some of the most impressive autumn foliage. Various walking tours are available where visitors can appreciate the scenic sites that offers both a rustic rural atmosphere and serene natural beauty of Kyoto. Evening illumination are also available on temples where the colors of the changing trees produce a magical atmosphere against the night sky when illuminated.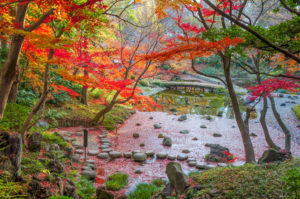 Koishikawa Korakuen
(Kanto, Tokyo – late November to early December)
Located in Koishikawa, Bunkyō, adjacent to Tokyo Dome City, Koishikawa Korakuen is one of Tokyo's oldest and best preserved Japanese garden. It offers a special place of scenic beauty that provides the most pleasing autumn viewing spot in the city. It has a network of walking trails that leads around ponds, stones, bridges and man-made hills. Numerous maple and ginkgo trees are planted around the garden blanketing the place with fascinating fall colors.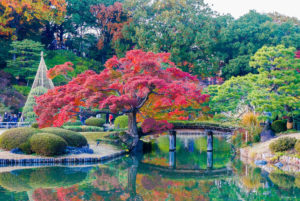 Rikugien Garden
(Kanto, Tokyo – late November to early December)
A Tokyo Metropolitan park in Bunkyō-ku and considered as one of the most beautiful Japanese garden in Tokyo. It is a spacious garden with trails leading around the large central pond, surrounded by trees and man-made hills. The garden is also covered with numerous momiji trees turning the place blazing with red leaves. There are times when evening illumination is also available in the garden giving the trees an almost magical appearance.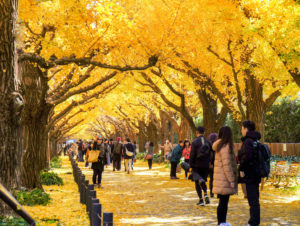 Meiji-jingu Gaien Park
(Kanto, Tokyo – late November to mid December)
The Meiji-jingu Gaien Park is located at the heart of the city – it is situated at the west of Akasaka Estate and about 1.5 kilometers east of Meiji-Jingu Shrine. Its Icho Namiki (Ginkgo Avenue) which is about 300 meters long is popular during the autumn season when about 150 huge ginkgo trees change its color from beautiful green into bright yellow foliage creating a brilliant landscape.
Kamakura
(Kanto, Kanagawa – late November to mid December)
Kamakura is one of the last places in Japan to experience the fall foliage – the peak of the season is often not reached until early December. There are some fixed trekking courses around the city which is recommended for those who would like to enjoy the dazzling colors of nature. Impressive scenes of autumn can also be enjoyed around temple grounds, shrines, historical monuments, and parks. Some of the temples provide evening illumination.
---
Autumn Gallery