Visit Date: 11/21/2013 (Best Viewing TIme: late November to early December)
Koishikawa Kōrakuen (小石川後楽園) is one of the oldest and best preserved parks in Tokyo and one of the surviving gardens from the Edo period. Numerous maple and ginkgo trees are planted along walking trails that lead to ponds, bridges, and man-made hills, providing one of the most pleasing autumn viewing spot in the city.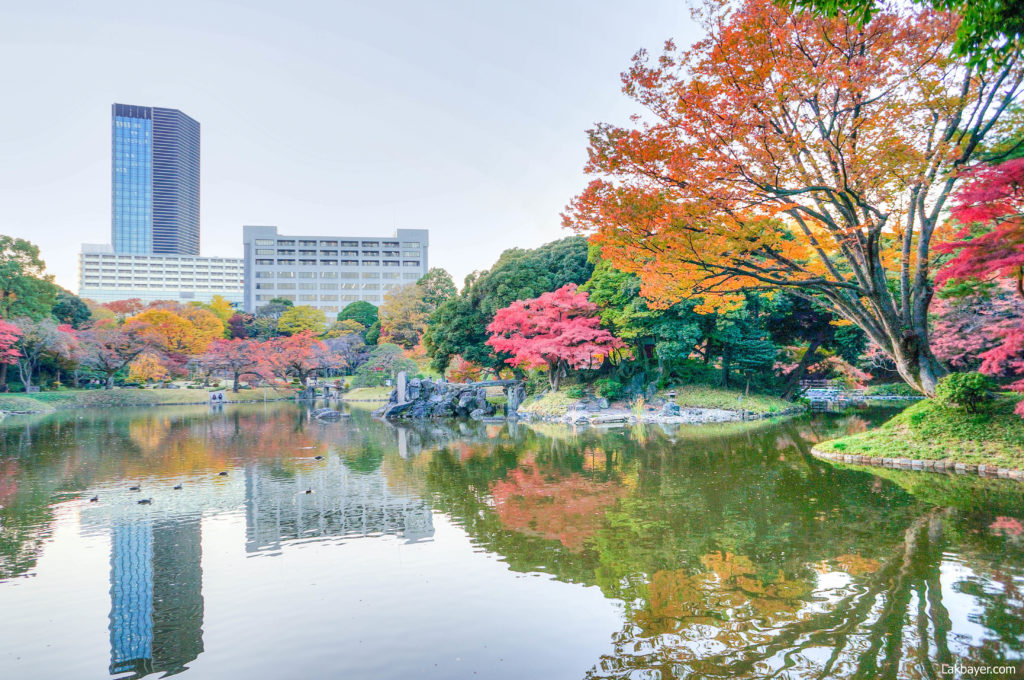 As of today, many of the trees in the garden have already started to show their autumn colors. Most of the maple trees in the Maroya area have already turned to bright red colors.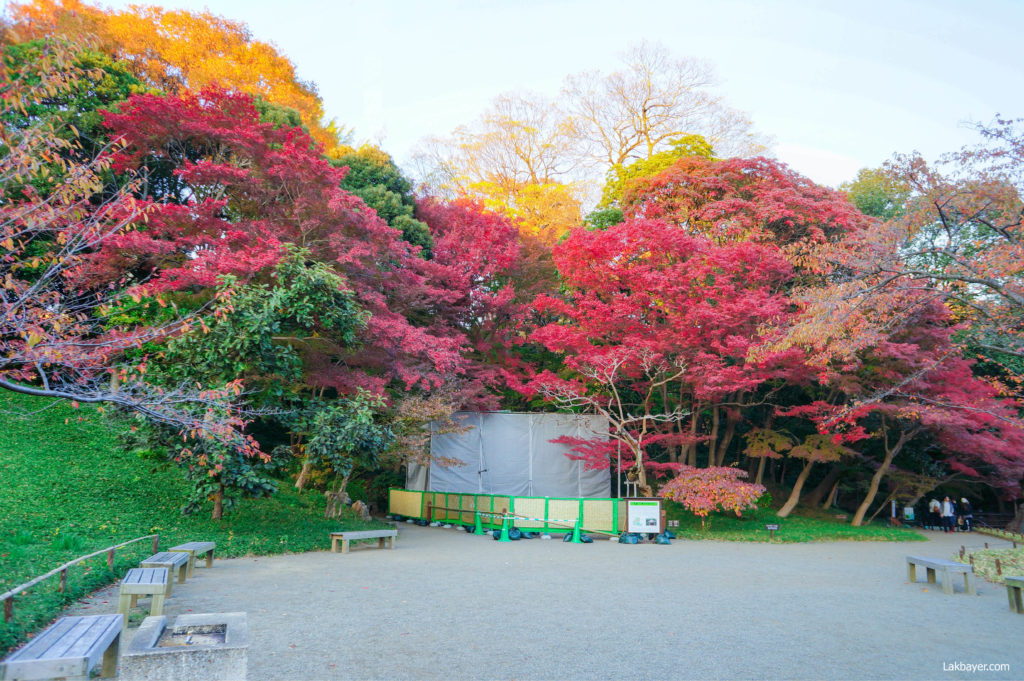 Some of the maple trees in the Seiko embankment, Sawa-watari (marsh crossing), and Momiji grove have also begun to change colors.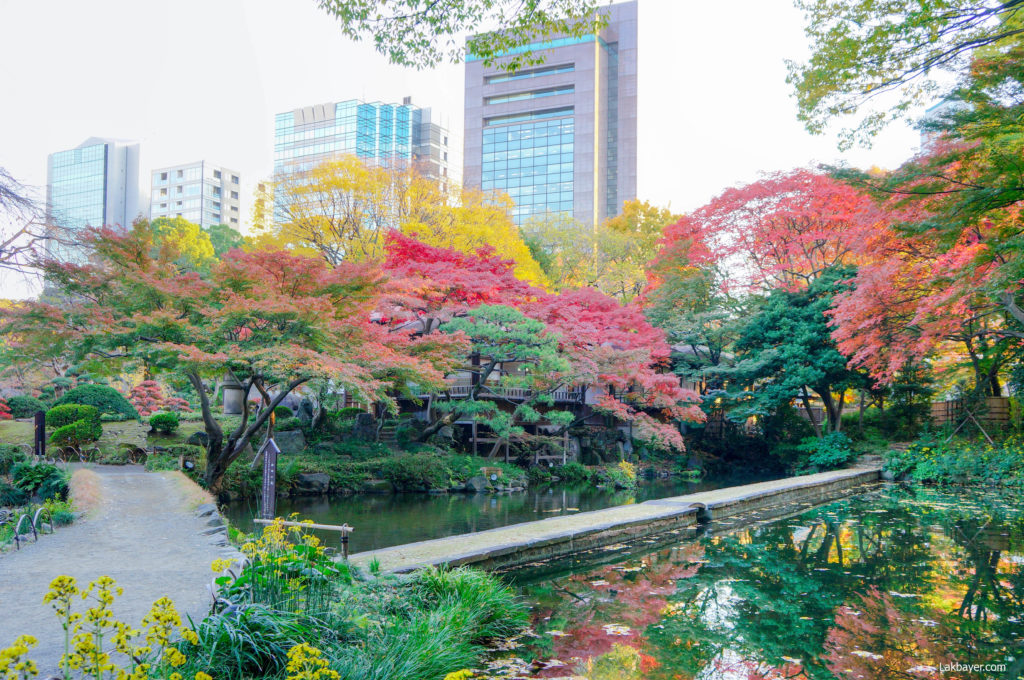 Seiko Embankment area with combination of green, orange, and red momiji.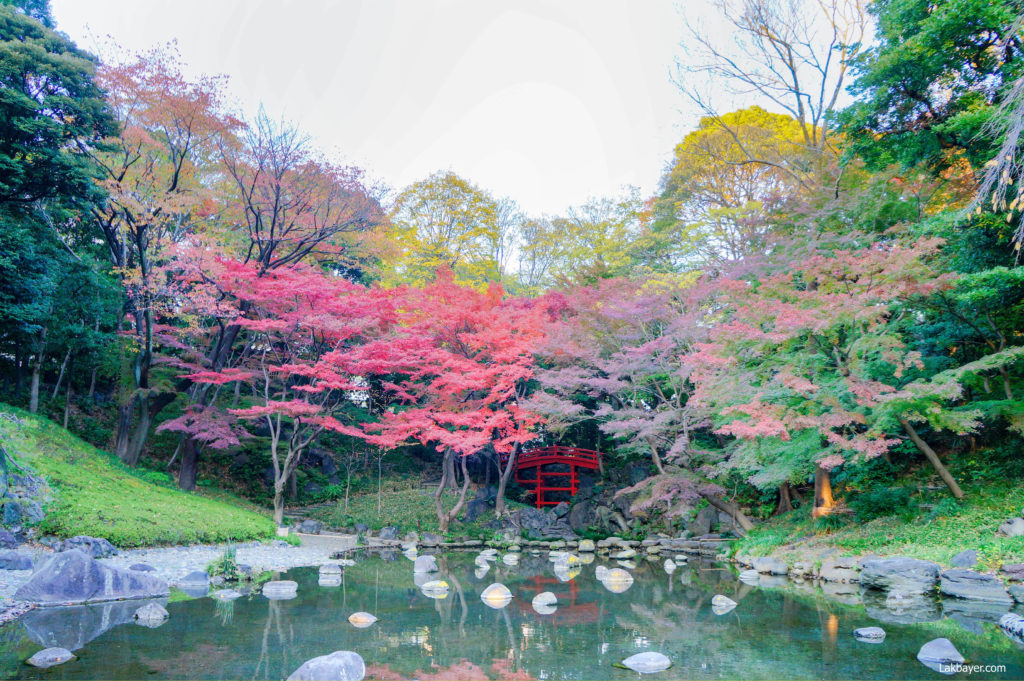 Sawa-watari marsh crossing with various colors of maple leaves creating a beautiful landscape with the stony pond and red bridge.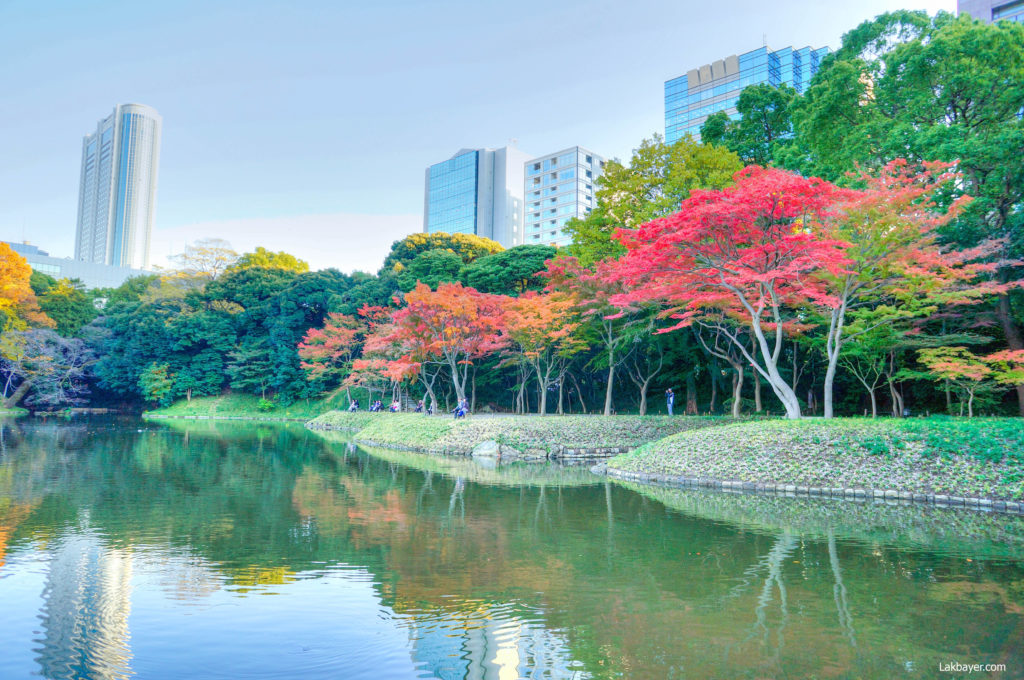 Momiji grove near the pond have also started creating attractive fall foliage.
The sakura or cherry trees in the garden, however, are already past their peak as they have already lost most of their leaves.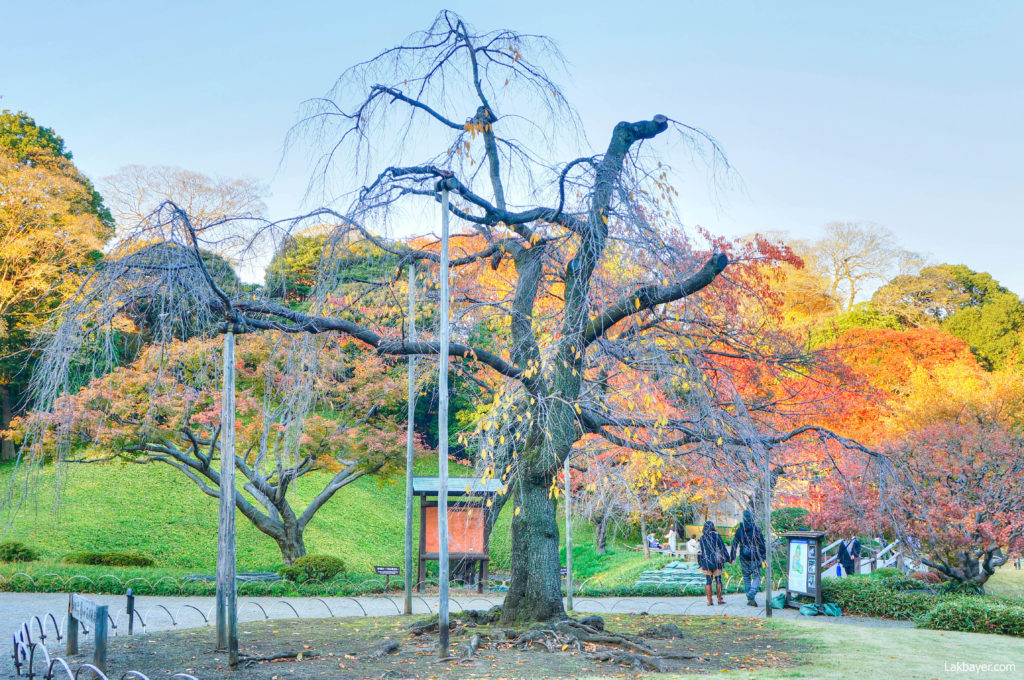 The weeping willow cherry tree near the garden entrance have lost most of its leaves.
Several areas in the garden provide good autumn viewing spots but note that there are also a lot of construction on-going, which, is expected to be completed by March 2014.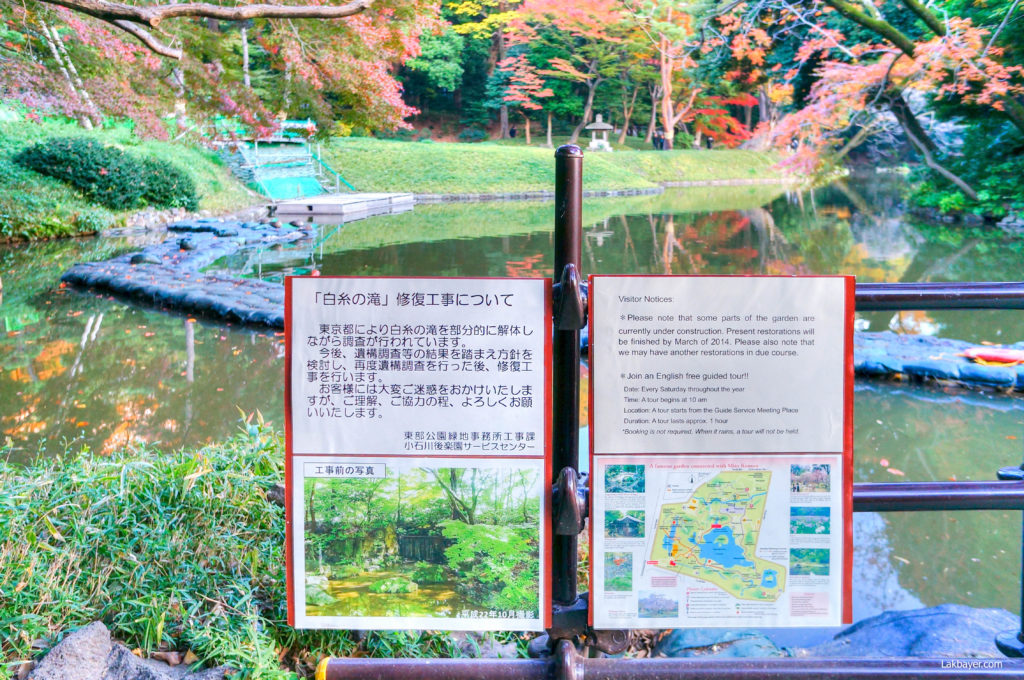 Restoration notice posted around the garden.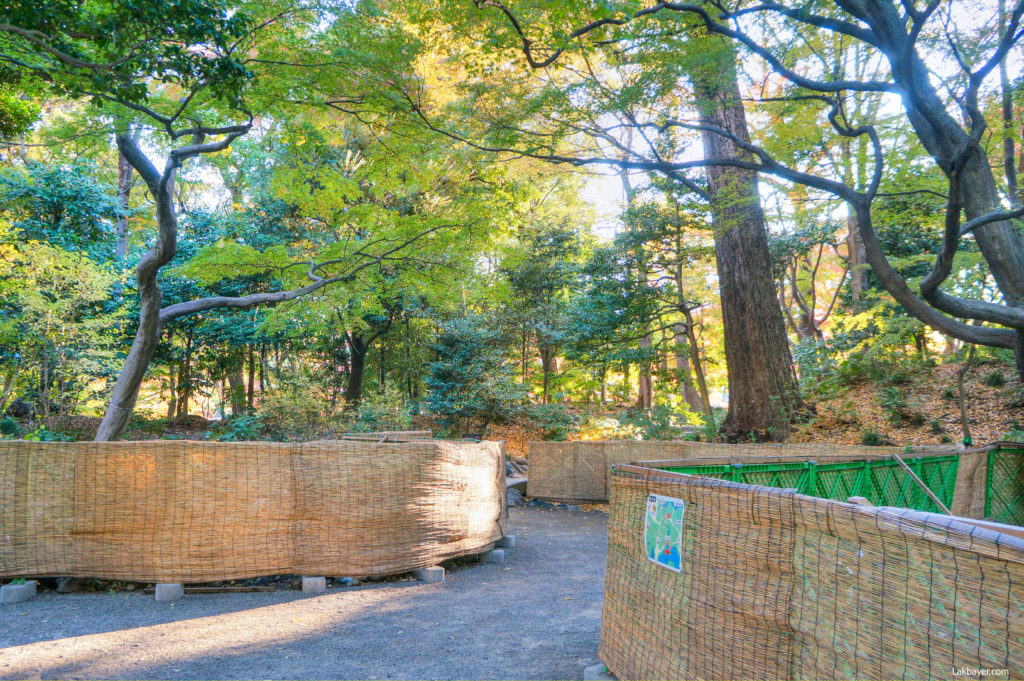 This area creates a fascinating carpet of ginkgo leaves when the trees are in peak.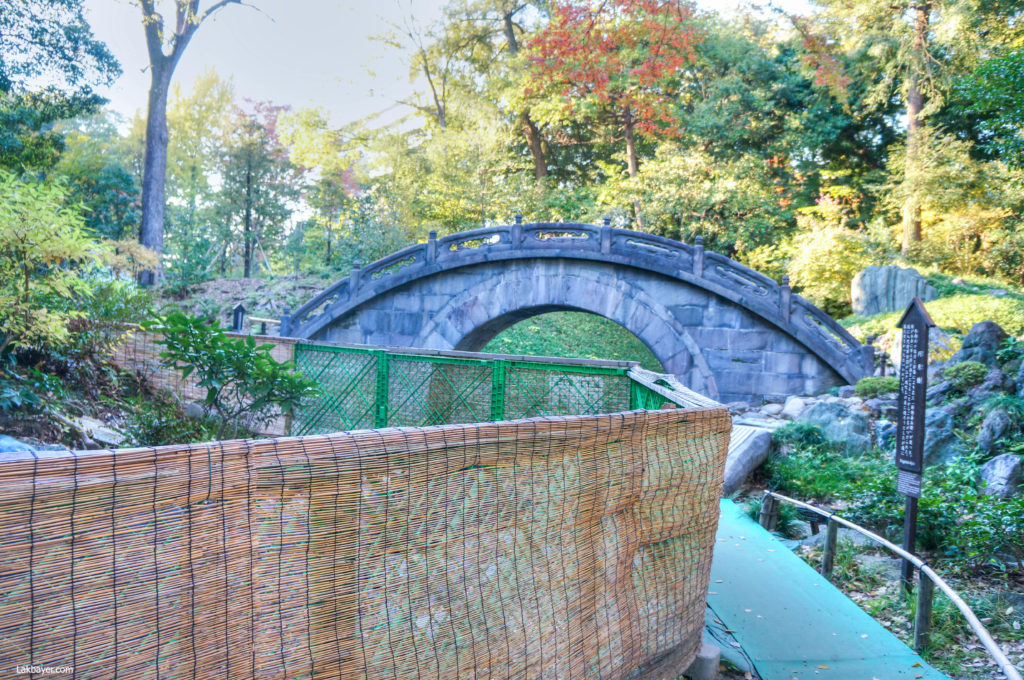 Construction along the trail heading to the Engetsu-kyo Bridge.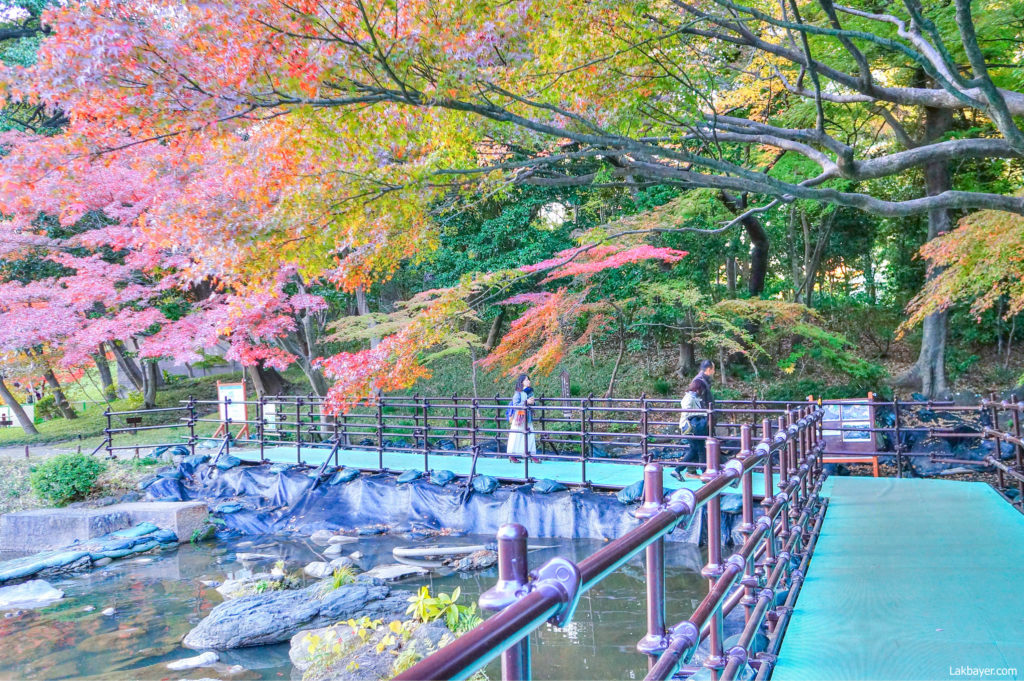 Temporary walkway assembled along the pond as it undergoes some really heavy repair.
Despite the restorations taking place within the garden, a visit to the park is still worthwhile as the gorgeous colors of autumn embraces the entire place and captivates the visitors.
---
Here are some of the best viewing spots in Koishikawa Korakuen Gardens:
Pond area with Tokyo Dome and Tokyo Dome hotel in the background.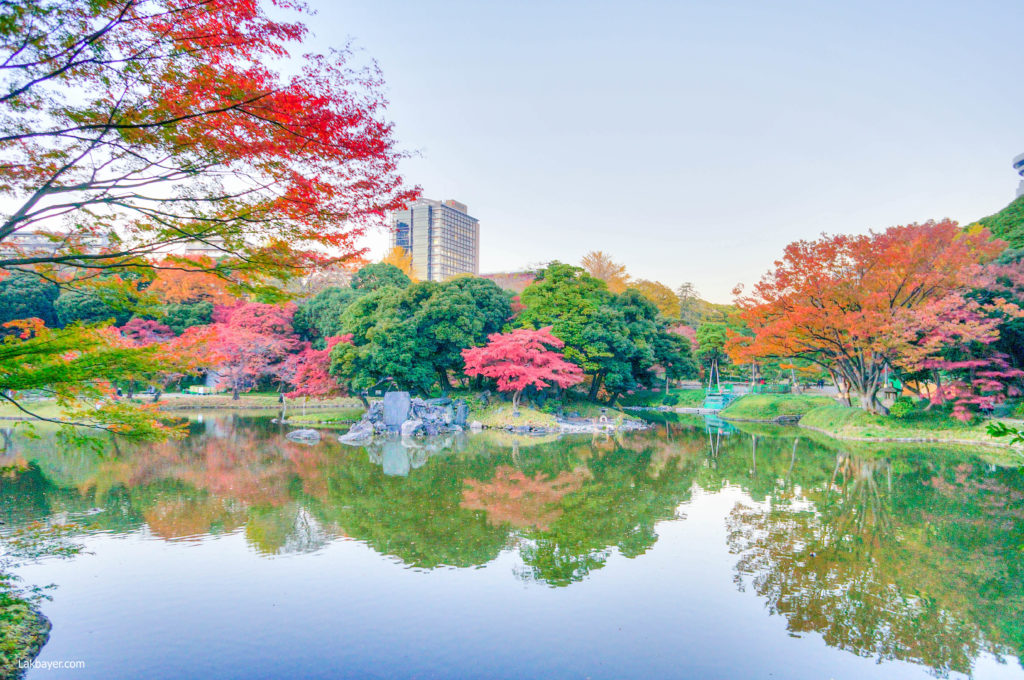 In the Nobedian stairs around the southern part of the pond.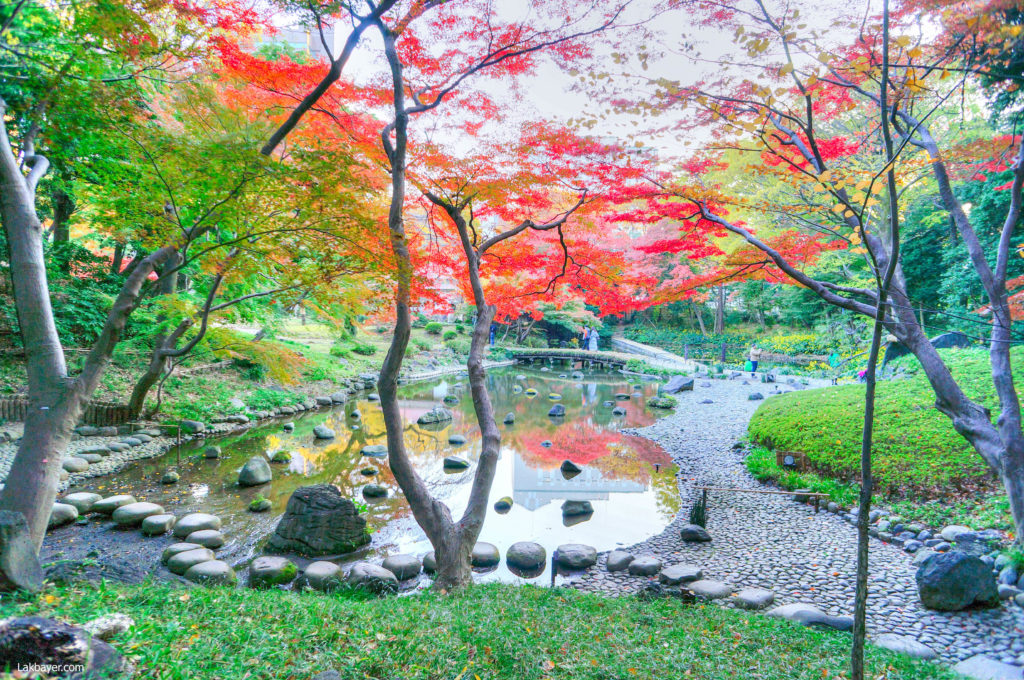 Around the Tsutenkyo area in the western part of the garden.

---

Useful Info:
Koishikawa Kōrakuen Garden
Address: 1-6-6 Koraku, Bunkyo-ku, Tokyo 〒112-0004
Inquiries: 03-3811-3015
Hours: 9:00 – 17:00 (entry until 16:30)
Admission Fee: ¥ 200
Child: Free
Adult: ¥ 300
Senior: ¥ 150
* Children are primary school children or younger.
* Senior citizens are persons aged 65 or over.
* Free of charge for junior high school students living or attending school in Tokyo.
Access: Iidabashi Station
▸ Toei Oedo Line – Exit E-06 (3 minutes walk)
▸ Shinjuku-Gyoenmae Station Exit 1 (5 mins walk)
▸ Tokyo Metro Tozai, Yurakucho, and Namboku Lines – Exit T-06, Y-13, N-10 (8 minutes walk)
▸ JR Sobu Line (8 minutes walk)