2014/2015 Season: November 1, 2014 to April 5, 2015
The largest ski area in Karuizawa, an upmarket mountain resort in Nagano Prefeture, is operated by the Prince Snow Resort. With its snow machine, the season can start as early as mid-October, thus one of the earliest resort (in Japan) to open for the season.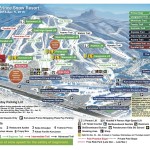 Karuizawa Prince Hotel Ski Resort is just an hour away from central Tokyo via bullet train making it the perfect winter destination for weekends or extended holidays. It has 9 lifts and 10 ski trails covering Mt. Yagasaki with the longest run of about 1.2 kilometers and steepest slope of about 30 degrees. The courses are geared mostly towards beginner and intermediate skiers but there are also several terrain with variety of features suitable for expert and freestyle riders.
Lift Ticket Rates:
Regular Season

Adult

Students




& Seniors

1 Day Lift Ticket

(8:00 AM – 5:00 PM)

¥5,000

¥4,000

4 Hour Lift Ticket 

(4 hours from time of purchase)

¥4,500

¥3,500

*Night Ski Lift Ticket

(4:00 PM – 8:00 PM)

¥1,800

¥1,300
*Night Skiing is not available on Tues, Wed, & Thurs, except during New Year's holidays (Dec. 30 – Jan. 1) and Feb 11.
– Children 12 years of age and under ski free of charge.
– Senior rates apply to those 55 years of age and over. Student rates apply to those age 13-18.(I.D. required)
The resort also offers the latest ski and snowboard gears for rent.
Wear & Gear Rental Rates:
Item

Adult

Child

Ski Gear Set




(skis, poles and boots)

¥5,000

¥4,000

Ski

¥3,500

¥3,000

Ski Boots

¥2,500

¥2,000

Poles

¥500

¥500

Snowboard/Skiboard Gear Set




(Snowboard and boots or skiboard, boots, and poles)

¥5,000

¥4,000

Snowboard

¥3,500

¥3,000

Snowboard Boots

¥2,500

¥2,000

Snow Wear Set

¥3,500

¥2,500

Helmet

¥500

¥500
The resort is also a perfect destination for the family with child-friendly setting and activities. There are 2 Kids Park areas in the resort, one is at the bottom of the Mominoki course and the other is by the Kurinoki course. Entrance fee to the snow park is ¥1,300 for the day but is free for lift ticket holders.
The ski area also cater to visitors who are not a fan of winter sports. It offers indoor activities like crafts-making, bowling, arcade, spa, shopping, hot spring, restaurants, and even day care services. The Mori no Kids Room child care facility is located in the east side of the Karuizawa Prince Hotel and costs ¥3,600 per hour. (More information on child care services: Poppins)