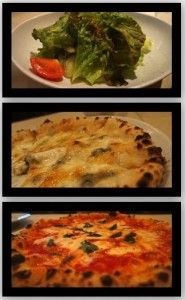 Situated behind the busy main street of Roppongi lies Pizzeria Baggio, a small restaurant which is easy to miss if you are not looking for it. The place is very cozy with its 1960s ambiance and with jazz music playing in the background. Equipped with only 10 tables, the place can get very packed during lunch time and only Lunch set is served. The set ranging from ¥1,000 – ¥1,500 comes with a choice of pizza, salad and a coffee or tea. We were lucky to come around 1pm as the crowd had subsided and several seats are available.
We ordered a quatro formaggi (¥1,200) which is one of their most popular pizza and a margherita (¥1,100) set. We immediately started eating as soon as the pizza is served as the appearance and aroma of the pizza is really mouth-watering. Note for people on diet, the pizzas are a bit oily which is the reason why I almost used up all their napkins wiping out the excess oil. But the oil aside, with it's thin but chewy crust topped with different types of cheese together with the accompanying honey, the quatro formaggi is just heavenly. The margherita is equally tasty. We requested our iced tea and coffee be served during the meal.
As we finished our meal, our stomachs are full but we can't seem to stop wanting for more. With the overrated and overpriced restaurants in Roppongi, Pizzeria Baggio is really a hidden refuge.
Address: 2F Kawahara Bldg, 7-15-24 Roppongi, Minato-ku, Tokyo 106-0032
Tel: 03-5775-7599
Operating Hours:
Mon – Fri: 11:45 – 13:45 and 18:00 – 21:10
Saturday: 18:00 – 21:10
Sunday: Close
Website (Japanese): PIZZERIA BAGGIO
✶ nearest station Roppongi:
▸ (Hibiya) 4min. Take Exit 4b, turn right at the corner of Mizuho Bank and walk to the end of the street. Go left, past a small park on the right and Pizzeria Baggio will be in a building on the left. 2F.
▸ (Oedo) 3min. From Exit 7, cross the street to your right. Go straight, past a small park on the right and Pizzeria Baggio will be in a building on the left. 2F.