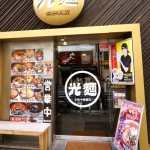 "Cold weather, hot food"! Ramen, a noodle dish with Chinese origin adapted to Japanese taste is surely one of the most popular choice during the cold weather. As we felt the first strike of the cool breeze of autumn, we found ourselves heading to a Kohmen shop in Roppongi. The shop looks small from the outside but it has 36 seats inside with 21 counter seats and 15 table seats. The interior is pleasant, clean and with stylish atmosphere. Staffs also welcome customers with a smile. English menu is also available for non-Japanese speakers so you don't have to guess what the ramen choices are.
Kohmen, which originated in Ikebukuro in 1995, is one of the best ramen in the area. It is known for the quality of its broth, noodles, and toppings which is not too thick, not too oily, not too over-flavored. It also offers different variety of noodle dish which includes tonkotsu or pig bone broth, combination of fish and pig bone broth, szechuan style sesame ramen, soy sauce ramen, and they even have "painful ramen" of black sesame flavor which looks like a very spicy dish.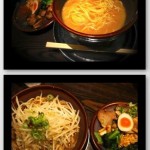 A single serving of ramen ranges from ¥730 – ¥880 while a set costs ¥990. The full toppings ramen set comes with a choice of gyoza side dish, almond milk jelly dessert, or noodle upgrade. We ordered a set of Jyukuse Kohmen and Honebuto Kohmen. The aroma of the ramen is very appetizing and the ramen is served exactly as how it looks in the pictures. With its rich and creamy pig bone broth soup of soy sauce and thin noodles, Jyukuse Kohmen lives up to the expectation of being the best choice of the restaurant. The Honebuto Kohmen, also one of the store recommendation, is also very savory with the combined fish and pig bone broth soup. This dish however is very filling because of the thick noodles. After eating for around 10 minutes, my Honebuto ramen still looks as full as when it was served!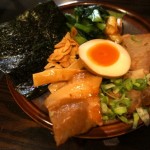 The full-toppings taste exactly right. The Chinese style roast pork and stewed pork are so tender that you wouldn't even notice the fats. The fried garlic is also crispy and you would want to munch it right away instead of putting it into the ramen bowl. Boiled egg, korean pickles, bamboo shoots, leeks, spring onions, and seaweed flakes are also included.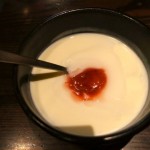 We requested for the Chinese-style almond milk jelly for the set which was served after we finished the ramen. The rich taste of the ramen bowl is balanced out by the sweet, soft, and cold dessert. I don't really like almond jelly but this one is an exemption. We were full and satisfied at the end of the meal.
Kohmen, with its special taste, lives up to the customer's expectation. I've been to several ramen shops but this restaurant so far still tops my list. It is a great place to go either by yourself or with friends. With its pleasing service and great food, it will surely give customers a great satisfaction.
Address: 27-14-3 Roppongi Minato-ku, Tokyo
Tel: 03-6406-4565
(other branch listing available in the website)
Operating Hours:
Monday ~ Thursday: 11:00am – 6:00am
Friday and Saturday: 11:00am – 7:00am
Sunday: 11:00am – 6:00am
Website: KOHMEN
✶ nearest station Roppongi:
▸ Toei Oedo Line. Exit from 4A and walk 3 minutes only.
▸ Tokyo Metro Hibiya Line: 3 minutes walk only