Visit Date: 11/03/2015 (Best viewing Time: late October to mid November)
The Fujiyoshida Cenotaph Monument also known as Chureito Pagoda (忠霊塔) is a part of the Arakura Sengen Shrine in Fujiyoshida. It was built in 1958 to enshrine about 960 citizens who died in the wars which occurred after 1868. The location offers a great view of the city and Mt. Fuji.

Maple leaves around the pagoda are starting to turn red while most of the cherry leaves have fallen.
The Chureito Pagoda is a straight line roofing copperplate ferro concrete five-story pagoda and an imitation of the Shitenno-ji Temple in Osaka. The construction of the monument commenced on April 1959 and completed on April 1962 costing about ¥9.4 million with most of the funds coming from the donations by the citizens.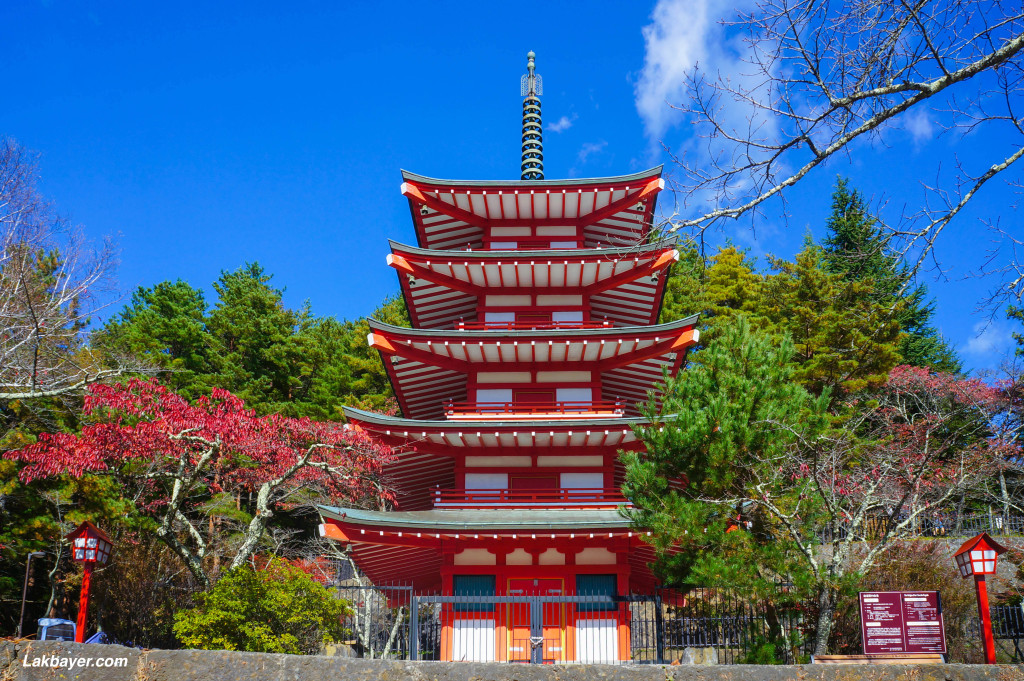 Some of the colorful cherry leaves surround the pagoda.
There are about 40 flight of stairs or nearly 400 steps up the mountain from the entrance to the shrine. The path is surrounded with various trees such as cherry and maple.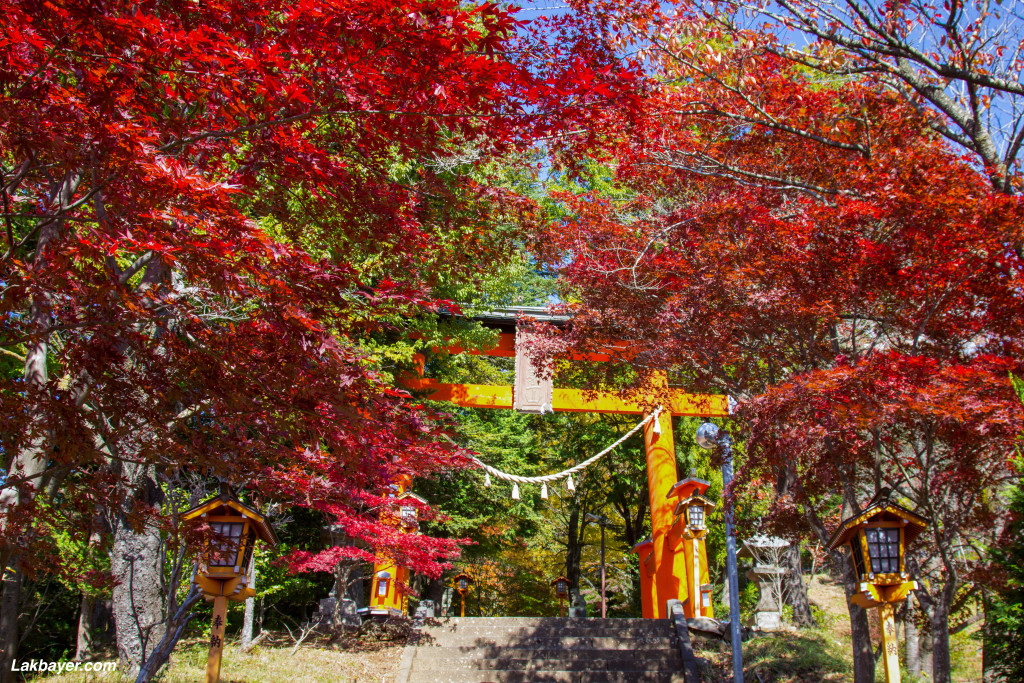 Start of the stairs to the shrine.
The spot is particularly popular among photographers and it has been a subject of countless photographs specially during spring or autumn seasons as the scene of a crimson structure with the beautiful cherry blossoms or stunning fall colors with the majestic Mt. Fuji as its background is typically Japanese.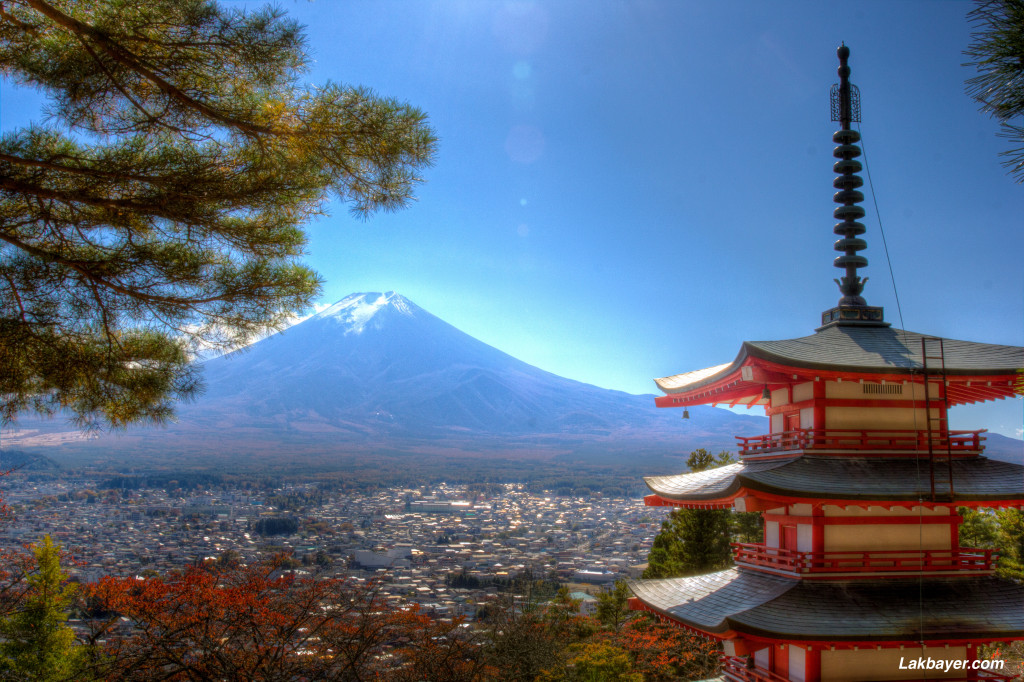 Astounding view of Mt. Fuji and the city from behind the pagoda.
Mt. Fuji and the torii.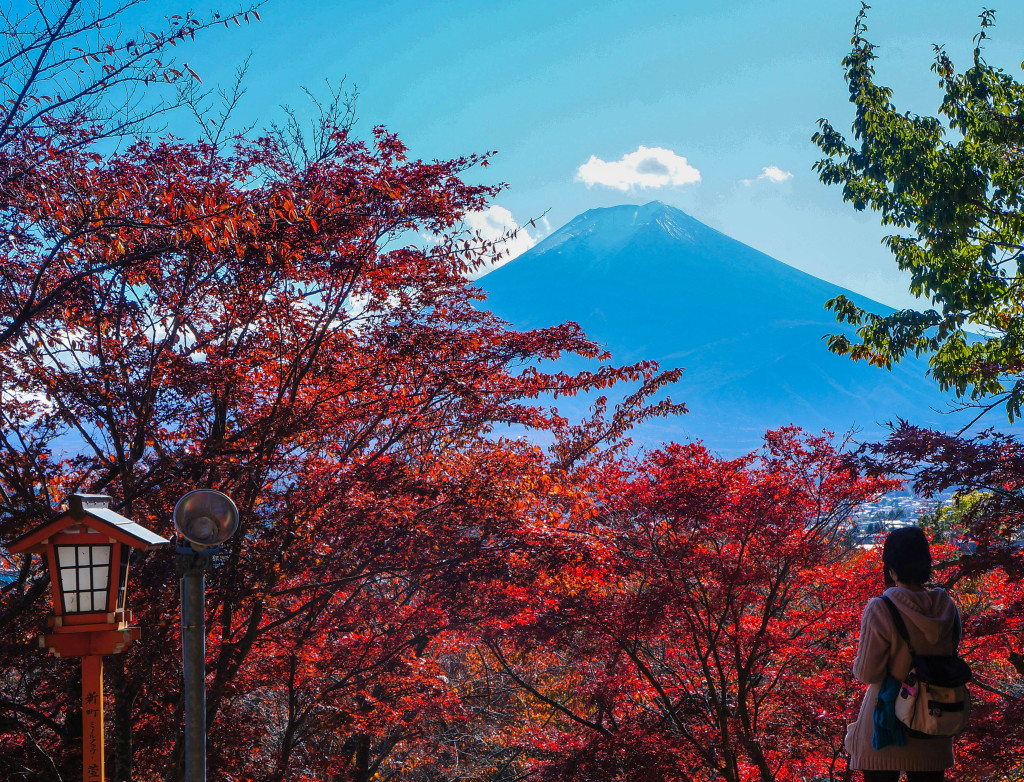 Visitors can't stop taking photos of the gorgeous view.
Access:
The Arakura Sengen Shrine is about 117 to 150 minutes from central Tokyo. Visitors can take express trains from Shinjuku to Otsuki station (takes about 70 minutes and costs about ¥2,770) or the local trains    (takes about 100 minutes and costs about ¥1,320), with usually 1 trassfer along the way.
Then from Otsuki station, transfer to Fujikyu Railway Line to Shimo-Yoshida station (takes about 40 minutes & costs ¥960).
The shrine is about 10 minutes walk from Shimo-Yoshida Station.