▪ Niijima Home
▪ Things To Do
▪ Getting There
▪ Getting Around
▪ Accommodation
▪ Itinerary and Cost
▪ Useful Tips
There are several ways to reach the island. You can either take a ship, speed ferry, or plane.
Ship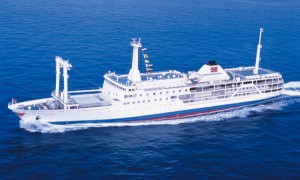 A 9-hour overnight vessel ship operated by Tokai Kisen Co., Ltd. leaves Takeshiba Shinbashi port at 10:00 pm (11:00 pm during Summer season) and arrives early morning at Oshima island (at approximately 5:30am) and continuing to Toshima (~ 6:30am) until in reached Niijima (~7:30am). The ship then continues its journey to Shikinejima and Kohzushima. The return ship returns following the same route, leaving Niijima around 11:00am and reaching Tokyo at 5:30pm.
Ticket reservations are accepted up to 2 months before departure date and can be done either by phone (03-5472-9999), online (Tokai Kisen reservation but in Japanese only), or via ticket agent. One way ticket for Tokyo – Niijima route ranges from ¥6,000 – ¥8,000 for 2nd class seats up to ¥20,000 – ¥27,000 for VIP seats.
Drinks and food vending machines are also available in the ship.
High Speed Jet Ferry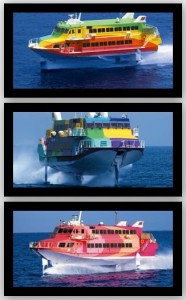 Tokai Kisen Co., Ltd. also operates jet ferries twice daily during July and August months. For outbound trips, Tokyo – Niijima route, the first ferry leaves around 7:20 am and reaches the island at approximately 10:00 am while the second ferry leaves around 12:00pm and reaches at 3:00 pm.
For the return trips, the first ferry leaves Niijma at 10:05 am and reaches Tokyo at 12:45 pm. The second ferry departs the island at 3:20 pm and reaches the city at 6:15pm. Time table and jet ferry frequency may vary depending on the travel dates (time table is available at Tokai Kisen website).
For the amount ranging from ¥10,000 – ¥13,000 for Tokyo – Niijima route, travel time to the island is cut down to approximately 2 hours and 20 minutes. This makes day trip feasible for busy people while providing more time for others to enjoy the island.
Plane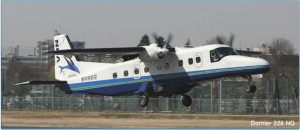 As long as the weather permits, flights to Niijima are available four times daily operated by New Central Air. Flights depart from Chofu airport, which is located in western Tokyo at 8:30 am, 10:50 am, 1:30 pm, and 3:10 pm respectively. On the other hand, return flight schedules are 9:40am, 12:00pm, 2:30pm, and 4:15 pm. Flying time takes approximately 40 minutes. As departure and arrival time may vary without prior notice thus passengers are advised to confirm through phone prior departure/arrival time.
Ticket reservations are accepted one month prior to departure date and can be done at the airport counter or via phone (04-2231-4191). One way adult fare costs approximately ¥14,000 while child fare costs ~Y10,000. Round trip discounted fare however costs ¥25,000. If passengers are bringing in big luggage such as surf boards and fishing gears, they are advised to inform the airline upon booking. Also note that boarding procedures should be completed 30 minutes before departure time.