Visit Date: 10/19/2014 (Best viewing Time: mid September to mid October)
Hitachi Seaside Park (国営ひたち海浜公園 Kokuei Hitachi Kaihinkouen) located in Hitachinaka, Ibaraki, Japan is a 190-hectare national park and is one of the best places to visit during the autumn season. The colorful cosmoses and blazing red kochia bushes or commonly known as burning bush, ragweed, summer cypress, or Mexican fireweed covering the Miharashi hill (みはらしの丘), located at the northwestern garden, allow the visitors to experience a unique fall colors.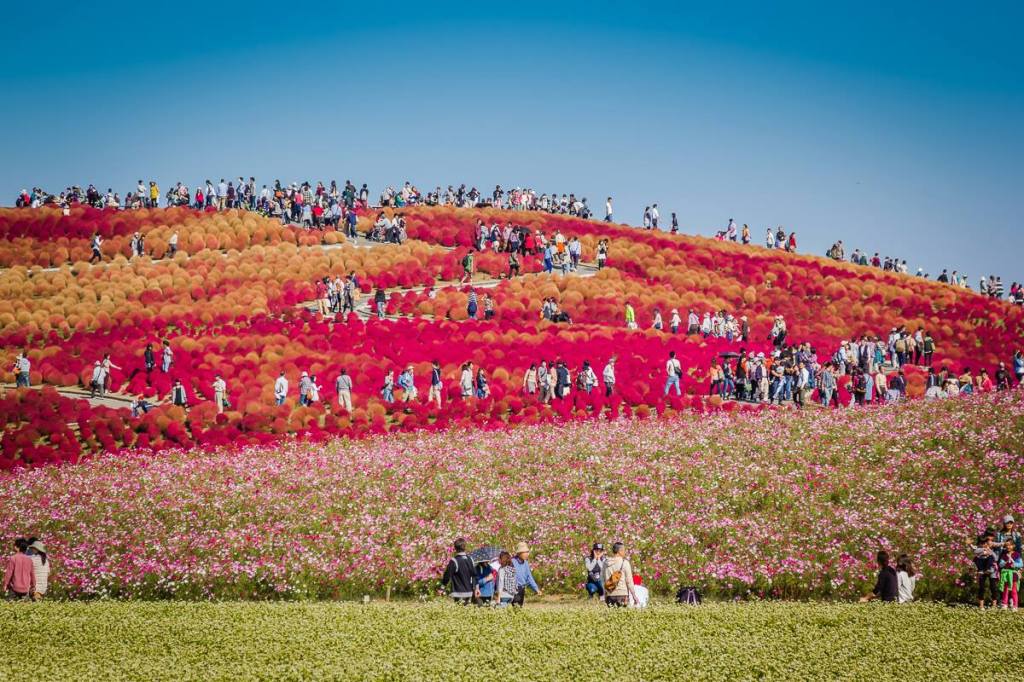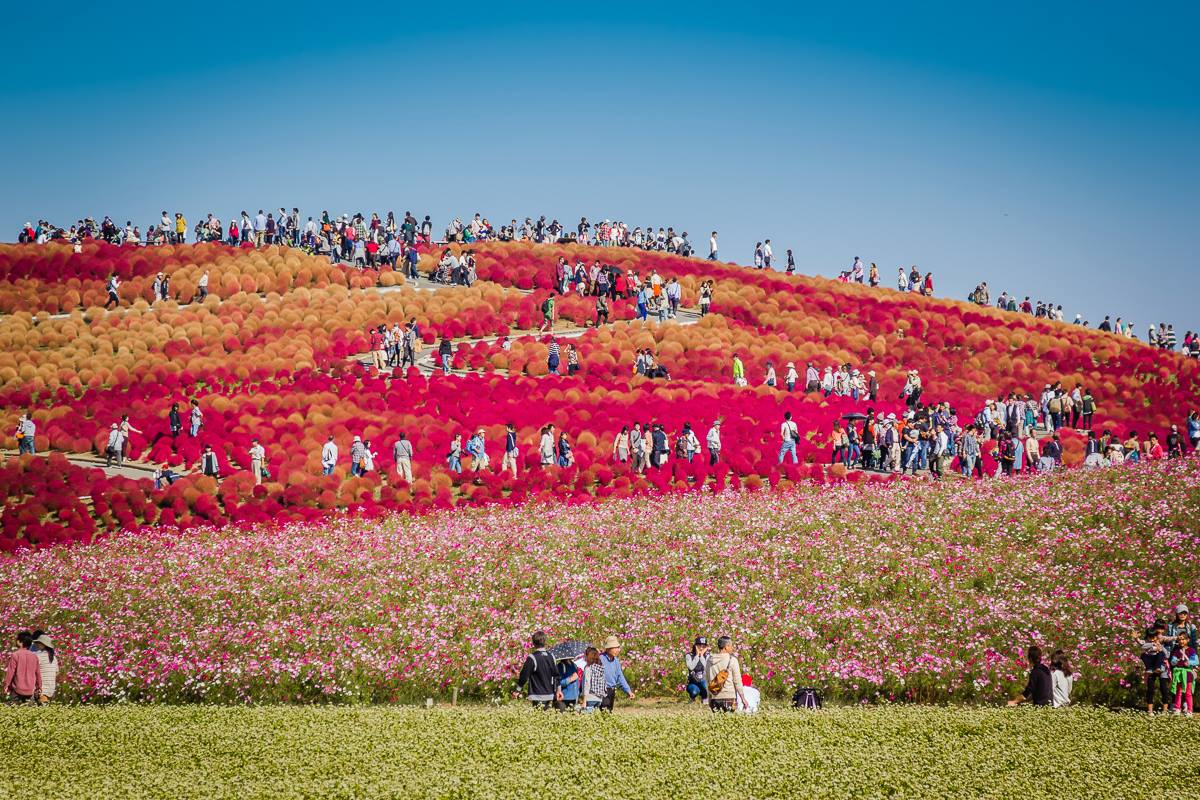 The Miharashi no Oka hill with the colorful kochia bushes.
Visitors can admire the colorful cosmos flowers at the foot of the hill and they can also walk along the crimson field enveloped by over 30,000 kochia bushes.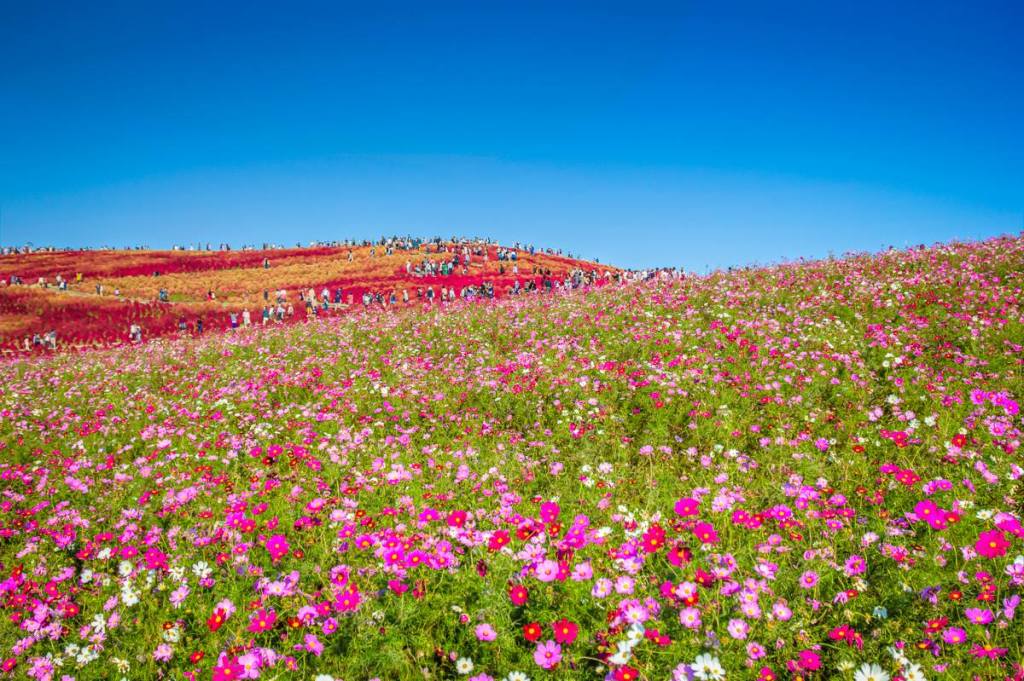 The kochia bushes clustered on the hill have hairy, narrow, and pointed leaves attached directly to the stems and grow about 1 to 7 feet. They are green clumps during the summer and turn fiery red by the middle of September.
The kochia carnival in the Miharashi hill usually lasts for about a month.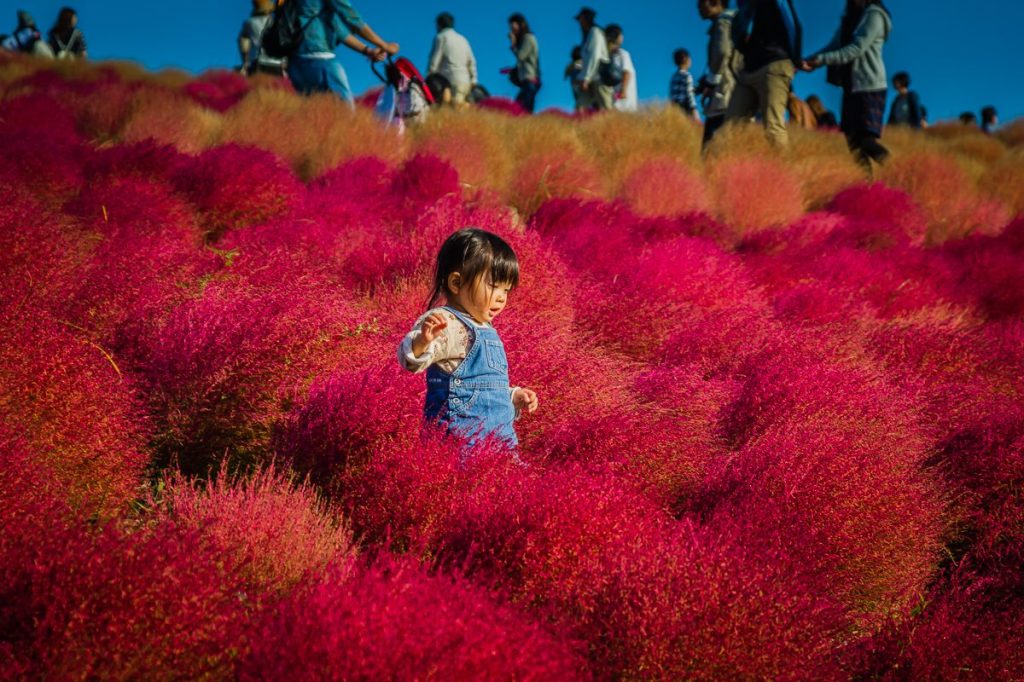 Children love running around the dazzling red bushes.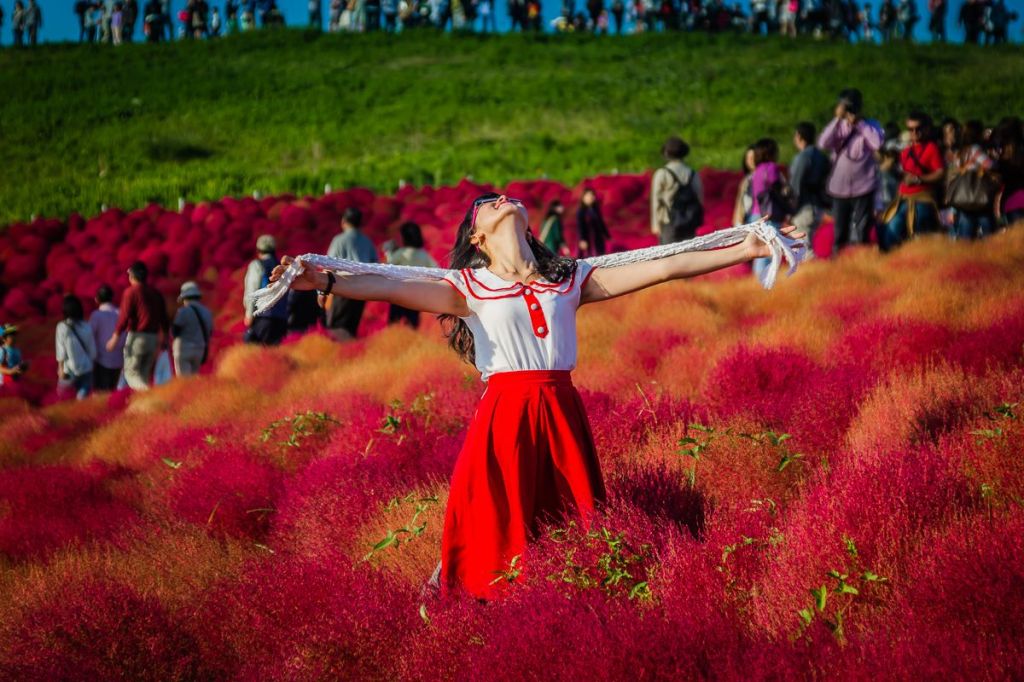 The kochia bushes provide a beautiful venue for photo shoots.
Some of the kochia bushes were already past their peak and have turned golden brown during the last day of the carnival but nonetheless were still impressive.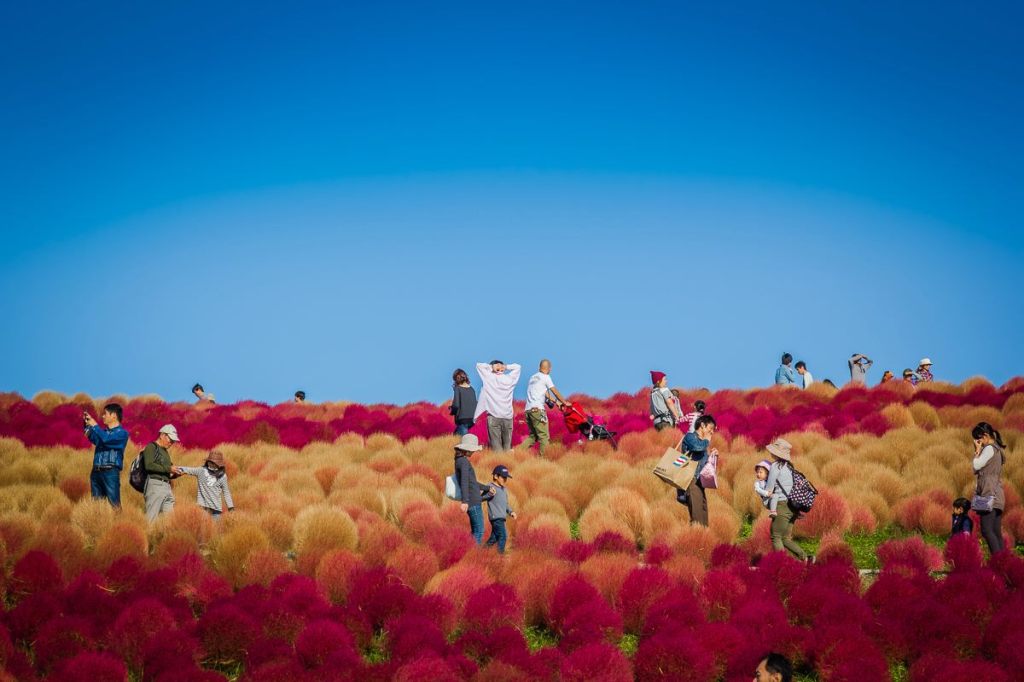 The park is also known for its cosmos during autumn.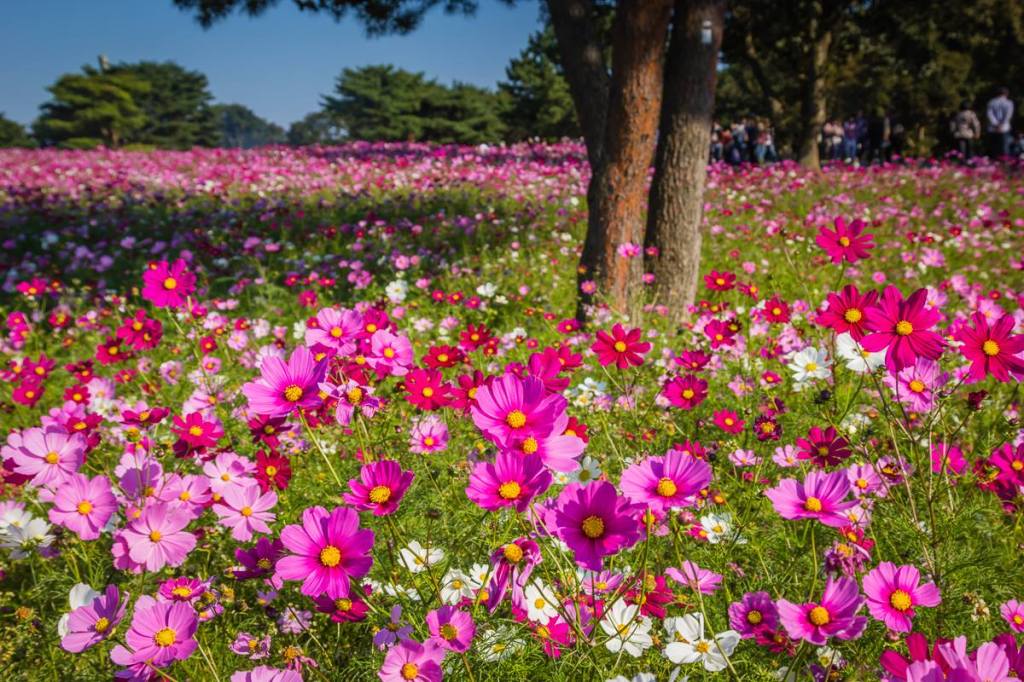 Millions of vibrant cosmos flowers sway in the gentle wind.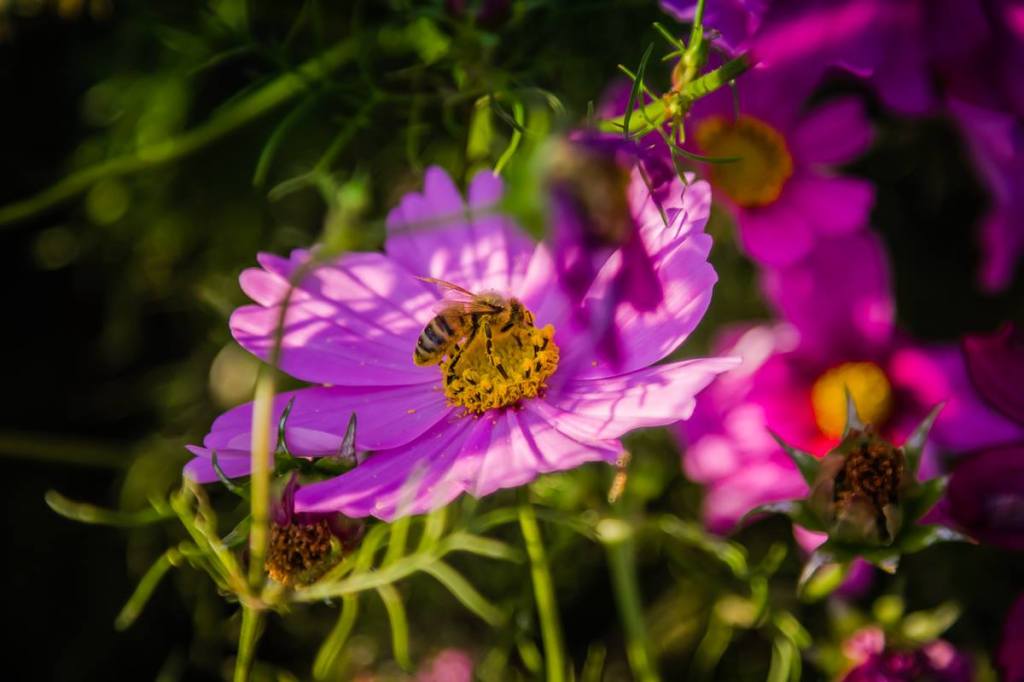 Bees playing with the pollen of the beautiful cosmos flowers.
Access: Hitachi Seaside Park is only 2 to 3 hours away from central Tokyo and the nearest train station is Katsuta Station (勝田駅), from which the park's entrance can be reached in 25 minutes by bus (Bus No. 2).
The express train ("Super Hitachi" on weekdays and "Fresh Hitachi" on week-ends) from Ueno Station takes about 70 to 85 minutes to Katsuta Station and the one-way train fare costs ¥4,130.
A cheaper fare option, which is about ¥2,270, via the local Joban Line train is also possible but takes about an hour longer and may require one or more train transfers depending on the time of departure (check Jorudan Co. Ltd. for schedule and train route information).
Addtional Information:
Contact Details

Address: 605-4 Onuma-aza, Mawatari, Hitachinaka, Ibaraki, Japan 〒312-0012




Telephone: 029-265-9001 / 029-265-9002 / 029-265-8185




Website:

http://en.hitachikaihin.go.jp/

Park Hours

September 1 – October 31: 9:30–17:00
November 1 – end of February: 9:30–16:30
March 1 – July 20: 9:30–17:00
July 21 – August 31: 9:30–18:00

Admission

                                                  General       Groups




Adults (15 years and over)         ¥ 410           ¥ 290




Seniors (65 years and over)       ¥ 210           ¥ 210




Children (7 to 14 years)              ¥   80           ¥   50